PitchBook's recent
2017 Annual European Venture Report
put the continent's VC landscape under the microscope, identifying key data regarding deals, exits and fundraising. Below, we've highlighted 13 key charts which showcase emerging trends in the ecosystem.
Will the drop-off continue?
The rise of deal values while volumes plummet has been a consistent trend for European VC over the last few years. However, the extent of the drop is eyebrow-raising. In 4Q 2017, the deal count was at a level not seen for six years.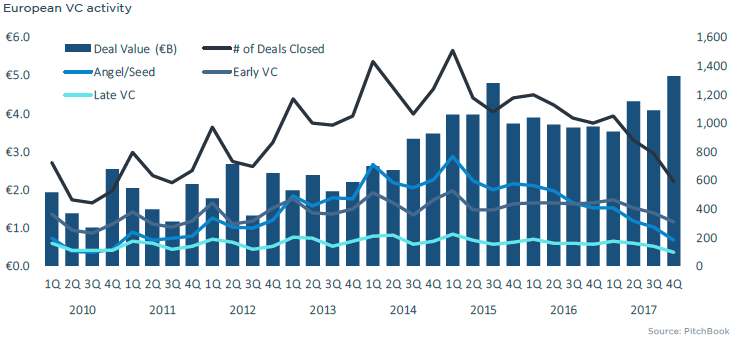 Fallen angels
A prominent factor behind the falling deal count has been the steady decline of angel and seed rounds. These early-stage investment types fell by 39% compared with 2016.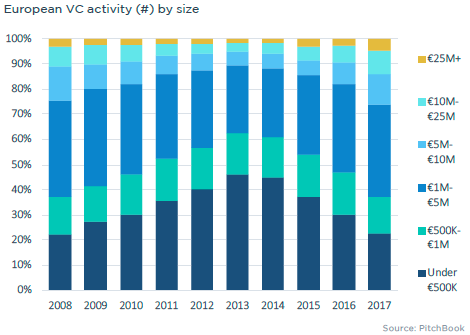 American invasion
The uptick in round sizes has coincided with an increase—probably a related one—in the presence of US VC activity in Europe. This surged notably to 17.3% last year, compared with 12.8% in 2016.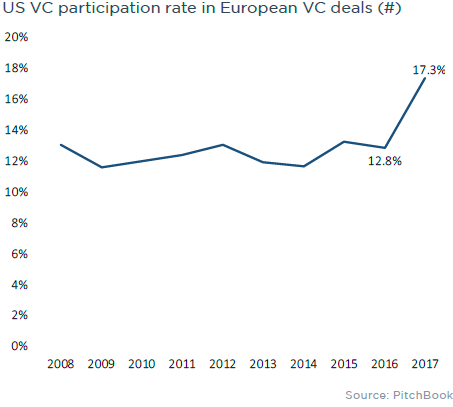 Super-size VC
Deal sizes continued to rise in 2017, so much so that the median VC round across all stages hit decade-long highs. Mammoth rounds, such as
Improbable's €458 million Series B
and
Deliveroo
's €417 million Series F, were two of the most notable deals which helped to boost these numbers.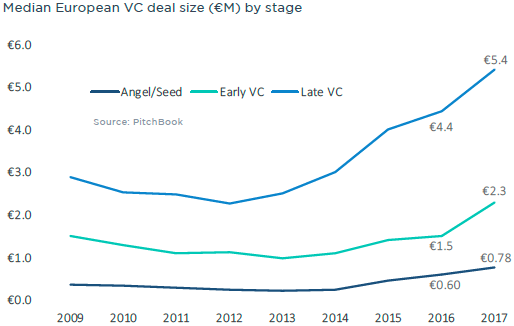 DACH attack
Germany, Austria and Switzerland saw their share of VC deal flow spike somewhat in 4Q as they held volume relatively steady, while elsewhere deal numbers plummeted—notably in the UK and Ireland, where volume fell from 404 investments in 1Q to just 202 in 4Q. As a result, DACH's position in the market rose to almost 19% in the final three months of 2017, compared with just 14% three quarters earlier.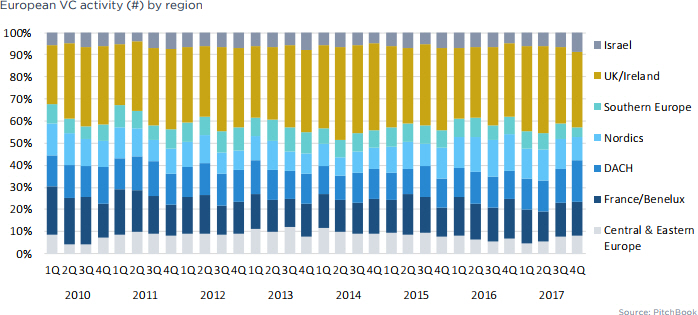 Rise of the machines
As machine learning and smart commodities become more widespread, VCs have targeted more and more AI investments. Last year, this reached a peak of 309 deals in the continent worth a collective €1.2 billion.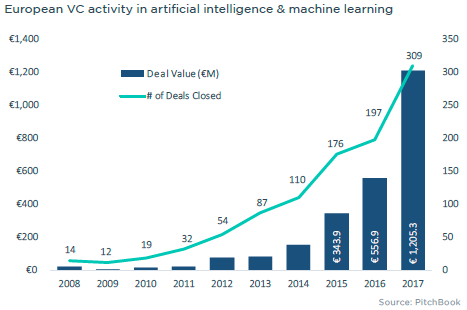 Investment spotlight: UK and Ireland
A number of large deals bolstered UK and Irish VC activity last year, pushing value to a record €7.1 billion. In 4Q alone, investors ploughed almost €2.5 billion into the countries' companies.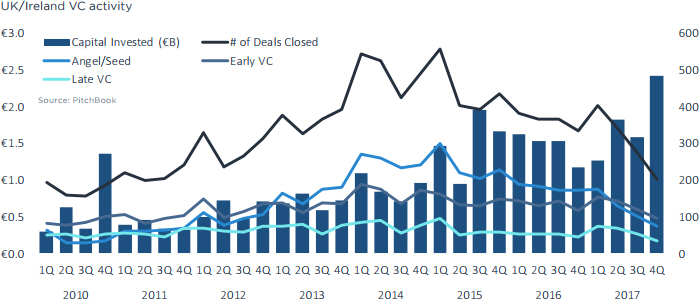 Fintech central
One of the main reasons behind the surge in UK and Irish deal value has been their reputations as fintech capitals. The two countries combined to account for 38% of Europe's fintech deal value.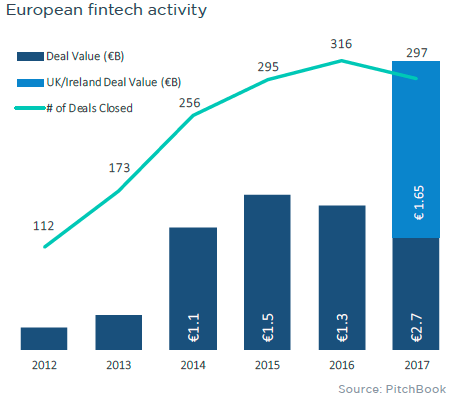 M&A exits slide as value remains high
While exit activity overall slid last year, this wasn't for a lack of trying from private investors and public markets; indeed, the previously talked-down IPO market produced €3 billion across 53 deals for exiting VCs, and both total value and deal count were up on the previous year. By contrast, M&A exits fell below 300 for the first time since 2012.
Despite sliding since 2015, exit values remained above the €11 billion mark for the fifth year running. This has been helped by some big-ticket IPOs, with last year's highlights including the floats of
Delivery Hero
and
Rovio
. With the direct listing of
Spotify
in the US being one of the most anticipated liquidity events of 2018, the is IPO dependence could be set to continue.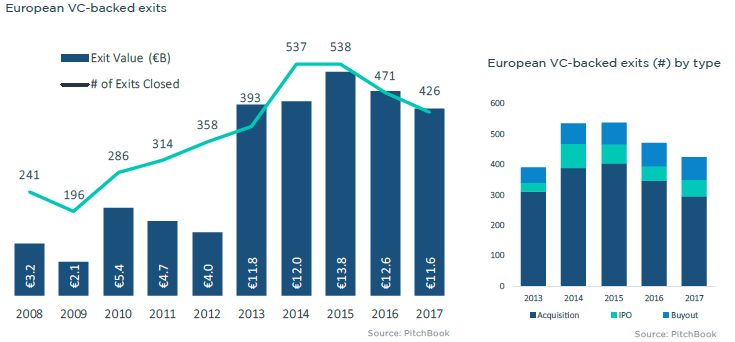 Closing door?
While the level of exits as a whole in 2017 remained healthy, the lack of activity in 4Q may provide concern going forward. The 91 exits recorded in the quarter constitutes the lowest number since 2Q 2013.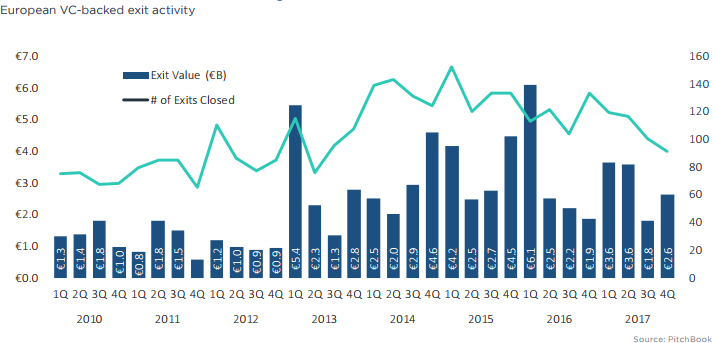 Fewer and bigger funds
VC funds raised in Europe have fallen each year since 2011, reaching a nadir of just 54 venture vehicles last year. By contrast, the amount of capital being raised in these vehicles has ballooned during the last three years. And while 2017's €7.4 billion didn't match its two predecessors, it is still comfortably ahead of the annual average.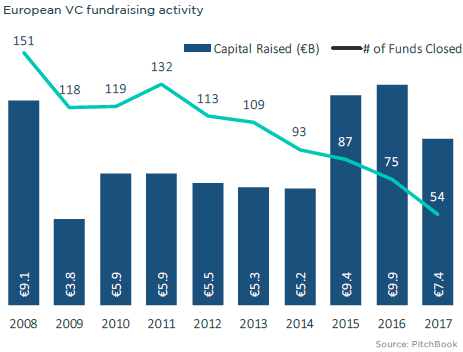 Tipping point?
While the mantra of 'fewer and bigger' has persisted across the VC landscape, it's possible the apex has been reached for VC fund sizes. Both median and average vehicle sizes dropped for the first time in six years in 2017.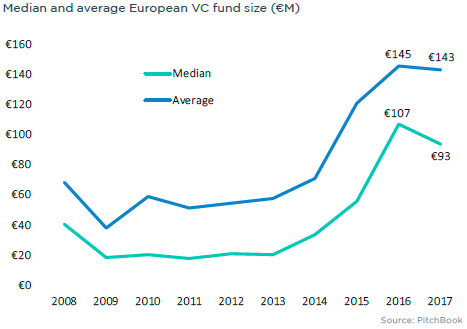 For a more in-depth analysis of Europe's venture landscape, check out the 2017 Annual European Venture Report.