$1B+ of VC So Far in 2014: Has Immunotherapy's Time Finally Come?
By Garrett Black
September 25, 2014
It has been heralded before, but this year venture capitalists seem finally convinced immunotherapy is the next big thing in drug discovery. Or, more specifically, that Juno Therapeutics is the next big thing, as Juno has accounted for $310 million of the record $1.1 billion across 29 VC financings of immunotherapy companies thus far in 2014, according to PitchBook data. Regardless of Juno's skewing of capital invested, this year is on pace to be one of the sector's most lucrative ever, prompting the questions: Are VCs finally flocking to the field in meaningful numbers? What sets Juno Therapeutics apart?
Background
Rejiggering the immune system to tackle specific targets is by no means a novel notion; it can technically be traced back to the first usage of the smallpox vaccine. To briefly classify: Immunotherapies can essentially be categorized as either active, where the immune system is stimulated by engineering certain signal molecules called antigens that reside on viruses, or passive, wherein immune compounds are injected to target diseases directly. As a treatment,immunotherapeutics have huge potential, with their customizable, efficacious use of the human body's own sophisticated defense mechanisms outstripping many conventional approaches (one immunotherapeutic approach is shown below). For example, a recent trial evaluating an immunotherapy for advanced melanoma saw one-year overall survival rates reach 94%, while two-year rates hit 88%, and preliminary data for a cervical cancer treatment produced strong results, as well.
Until researchers were able to create synthetic antibodies in 1975, there wasn't really an efficient way to redirect immune responses. A few decades of advances in molecular redesign later, Seattle-based Dendreon (NASDAQ: DNDN) won the first-ever FDA approval for an immunotherapeutic drug: Provenge, which is made by re-engineering patients' immune cells to recognize a particular protein found on prostate cancer cells.
Despite the achievement, Dendreon found itself in troubled water, as it faced post-approval issues—including expensive processes and competition from established (albeit less-revolutionary) drugs—that still haunt immunotherapy companies today. But while Dendreon floundered, 2012 saw 27 VC investments in the field that totaled $242 million; and 2013 climbed even higher to $499 million of capital invested over 34 deals. As the snapshot of the PitchBook Platform shows below, VC activity has been fairly high in the past but capital invested has surged considerably; even without Juno's mammoth rounds this year, capital invested has reached an all-time high. Investors are putting their money where their immune systems are, to appropriate a phrase.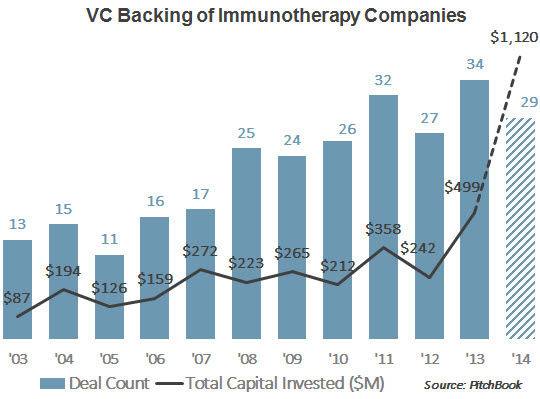 Public pharma giants have hopped on the rising tide of immunotherapy, as well; most recently Merck & Co. achieved approval of pembrolizumab, a treatment for melanoma. And Bristol-Myers Squibb, Roche and AstraZeneca are hot on Merck's heels with immunotherapies targeting lung and bladder cancer. Even with the competition from established pharma companies, however, Juno Therapeutics may serve as a template of what a successful, future immunotherapy company may look like.
Juno Therapeutics
Formed in late 2013 as a partnership between Fred Hutchinson Cancer Research Center, Memorial Sloan-Kettering Cancer Center and Seattle Children's Research Institute, Juno has not only hefty amounts of VC cash but also a deep well of research talent. In addition, Juno is developing two distinct technology platforms, trying to tackle two immunotherapeutic approaches in tandem; VC investors seem to quite like the idea, as that approach expedites clinical trials and approval cycles, the two major time-sinks that plague biotechs.
Of course, VC firms aren't backing only Juno. A few highlights from the PitchBook Platform: U.K.-based Adaptimmunejust raised $104 million, while Germany-headquartered immatics biotechnologies and Isarna Therapeutics have raised over €52 million ($67 million) between the two of them thus far in 2014. The thing is that Juno, so far, has the biggest head-start of perhaps any VC-backed immunotherapy biotech, both in terms of R&D heft and cash hoard, and thus can afford to develop a broader pipeline than others. Its success will surely determine how many other founders and VC backers are willing to replicate its approach, but given the timeline of drug approvals and other industry challenges, Juno's success (in terms of producing an approved immunotherapy) could be a ways off.
Industry Challenges: Scale and Safety
Safety is one of the primary roadblocks in the approval cycle. Drugs that have the potential to redirect immune responses can often spark an all-out war between normal tissue and the immune system, simply due to a molecular-level mistake in recognition. Depending on methods of operation, many types of immunotherapies are quite risky—that, plus their novelty could lead to regulatory roadblocks. Granted, the pace of approval has been accelerating; in the case of pembrolizumab above, the FDA expedited its processes since the drug showed "a substantial improvement over available therapies," and it also received priority review and orphan product designation. However, even wider adoption has yet to occur, mainly due to the next issue—cost. Many immunotherapies produce excellent results compared to standard treatments, yet the cost of such novel drugs can be almost prohibitive.
Wrap-up
Scaling production of therapies, once they are approved, will be the next big challenge for Juno and its peers. When enough viable competing drugs enter the field, with pharma giants like Merck getting several solid candidates in mass production, costs will drop. Even if resource-rich pharma companies get good candidates into play, the potential applications of various immunotherapeutics are so numerous that if a startup can grab enough VC and research backing, it could target a narrower range of ailments and specific treatments. Other companies are bound to replicate Juno's success by uniting leading cancer research centers to draw more VC. They could also exploit the fertile ecosystem of supporting services—namely, exploring new software to model complex molecular interactions or tech that utilizes high-throughput sequencing to make cellular analysis more efficient. Adaptive Biotechnologies, which raised $107 million at the end of the July, is an example of the latter.
Overall, we may be seeing the real emergence of immunotherapy as a viable, stable field. The most successful standout thus far, Juno points the way toward a new VC-backed model, combining venture capitalists willing to make long-term bets with the expertise of multiple medical research centers. As more therapies get approved, they'll serve as the basis for further adaptation to target other diseases. It's been said before, but, albeit with the customary cautionary note, it can be said again: Immunotherapy's time has come.