2017 is a record year for VC funding in biotech, genetics
November 13, 2017
In September, DIY genetics testing company
23andMe
raised $250 million in a round led by
Sequoia
. It was the
largest financing for a VC-backed genetics company
in what has been a record-setting year for venture capital funding in the genetics sector and the wider biotech industry, according to the PitchBook Platform.
Here's a look at how VC funding in both spaces has been on a steady upward trajectory since 2010.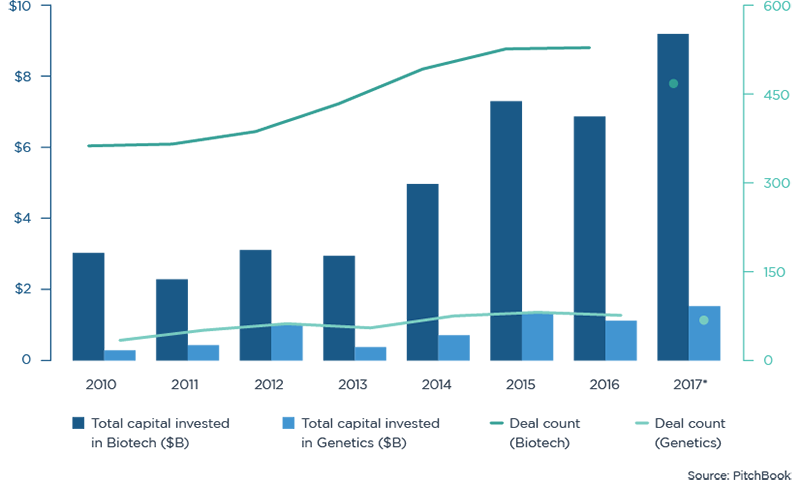 Just 16 biotech companies have raised more than $200 million
in a venture capital round since the start of the decade, with 23andMe's financing marking the eighth-largest investment in that timeframe. Meanwhile, biotech has cruised past its previous VC funding record of $7.3 billion set in 2015, racking up about $9.3 billion this year across 471 deals, per the PitchBook Platform.
As for genetics companies, they have raised $1.5 billion across 68 deals with at least one VC participating since the start of the year. The previous record for VC funding in genetics companies in a single year was about $1.4 billion in 2015; before that, it was $991 million. Recent rounds include a $240 million Series B for
WuXi NextCODE
, a platform for genomic sequence data, and $80 million for
Counsyl
, the provider of genomics and DNA screening technology.
Perhaps the success of consumer genetics company 23andMe—one of the few genetics unicorns—will encourage even more VCs to segue into new territory.
Check out more of our biotech coverage.