2017 Year in Review: The top VC rounds & investors in AI
December 20, 2017
Artificial intelligence is everywhere: It's in your smartphone, it's in your house, it's in your car, and it's working its way into personal banking, agriculture, healthcare and nearly every other part of modern life.
All told, VC investors worldwide have poured more than
$10.8 billion into AI & machine learning companies
in 2017, per the PitchBook Platform. That figure is part of a huge increase in global VC financing since the beginning of the decade: Venture investment in the industry clocked in at less than $500 million in 2010 and about $5.7 billion last year.
This year, we dove deep into VC investment in AI and machine learning, producing content on everything from potential reasons
why the surge in the sector is happening now
to a look at the
rise of acquisitions in the space
and an
interview with the CEO of an open-source AI company
. PitchBook's analysts also put together a
market map
on startups in the industry, dividing them into categories and providing detailed profiles of select companies. To wrap things up, we've taken a look at the biggest fundings and investors in the space in 2017.
Biggest VC AI fundings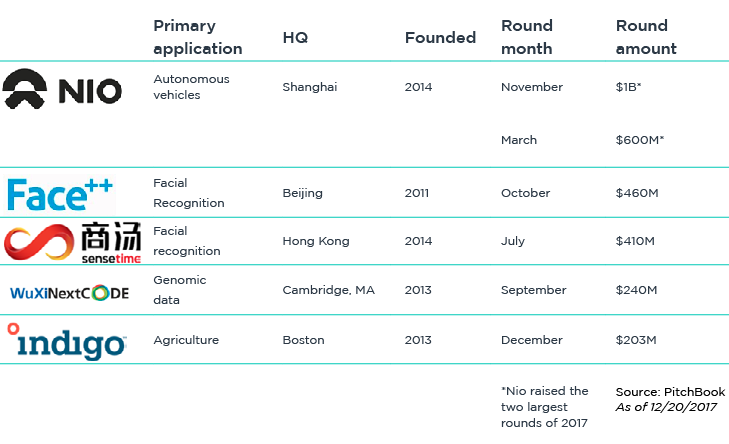 Most active VC investors in AI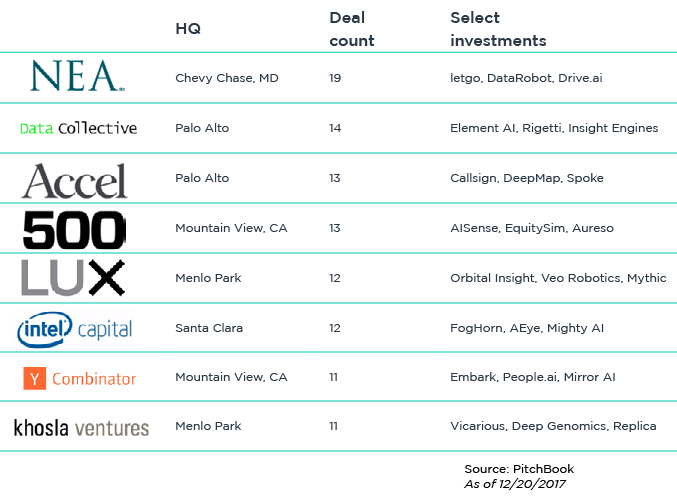 Check out more of our 2017 Year in Review content.