Following two days of conversations and presentations at GeekWire's flagship event in Seattle, here are a few themes to take away about the hot-button issues already defining the future of tech, including the fate of brick-and-mortar retail, diversity and inclusivity in venture capital and the marginalization of truth in an era increasingly characterized by misinformation.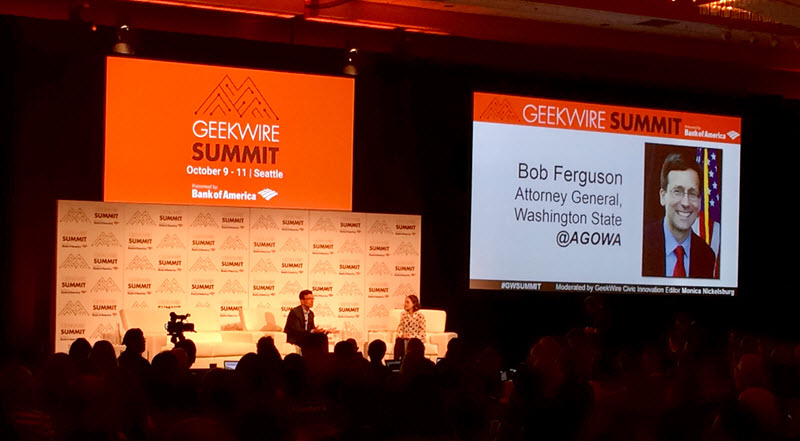 Reports of retail's death have been greatly exaggerated
Or have they? It will come down to whether technological innovations like AI, machine learning and AR/VR—which are already driving other industries to greater heights—can also spur the evolution of brick-and-mortar retail as more stores are shuttered in the coming years. As industry behemoths like Amazon and Walmart have demonstrated, large ecommerce operations and traditional retail experiences are far from mutually exclusive.
So, what's a shopkeeper to do?
For Starbucks CEO Kevin Johnson and Instacart founder & CEO Apoorva Mehta, who took the stage Tuesday, it largely comes down to finding practical applications of AI & machine learning for things like predictive analytics and personalization.
As Johnson observed, these applications can forge an emotional connection that is both authentic and relevant to the customer, complementing rather than supplanting that literal and figurative buzz you get from "the baristas that learn your name and know your favorite beverage."
In the eyes of Mehta, who described Amazon's $13.7 billion acquisition of Instacart investor Whole Foods as a "blessing in disguise," adjusting to this new reality remains a matter of life and death for established members of the industry. "Now, for every single grocery retailer at this point in time, whether they believed it or not before, now they needed an ecommerce strategy. They needed to have same-day delivery," he said.
'It's hard not to like someone you really get to know'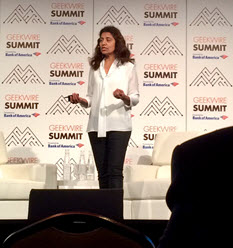 This was an insight shared from the stage by Leslie Feinzaig—the founder & CEO of Venture Kits, a maker of educational toys—who opened the summit's series of talks on "The Immigrant's Journey," which also featured Citlaly Ramirez, a Washington State Opportunity Scholarship recipient, and Reetu Gupta, CEO of Cirkled in (right). In addition to boosting bottom lines, emerging tech in areas like machine learning and mixed reality can connect people and teach users the human side of entrepreneurship.
The centrality of immigrant contributions to technological advancement in the US was a theme echoed time and again during the two days of talks. Washington state Attorney General Bob Ferguson, who has led the charge against the Donald Trump administration's various attempts to impose some form of a travel ban on visitors to the US, rallied audience members to help protect the H1-B visas that many large US tech companies use to hire the world's best talent. Microsoft president Brad Smith, meanwhile, reiterated his promise that Trump would have to go through him to remove Dreamers and other employees potentially affected by proposed changes to US immigration policy.
The end and the beginning of truth
To close the summit, GeekWire co-founder Todd Bishop sat down with Snopes co-owner Vinny Green, Axios tech reporter Ina Fried and University of Washington associate professor Jevin West, who helped create a popular class called "Calling Bullshit," to discuss tech, media and the future of truth, including another way in which automation could do good: exposing and contextualizing "fake news."
"Business models for journalism are challenged and challenging," Fried said. "Business models for things that are misleading are solid and well established." If tech is enabling business models that disseminate bad information, that means we're not using our tech well. And it seems clear that, in many cases, social media has encouraged the exchange of credibility and caution for the pursuit of clicks at any cost.
However, the news media has also helped achieve a fair bit of good, including exposing the problems around gender, diversity and sexual harassment in venture capital and tech. That was one of many topics up for discussion when Bloomberg TV's Emily Chang led a panel that included Rebecca Lynn of Canvas Ventures, Julie Sandler of Pioneer Square Labs and Sarah Tavel of Benchmark.
In this area, the courage of those who have come forward with their accounts of harassment, coupled with the traditional graft of good journalism and the kind of amplification that only social media platforms can provide, have done more than draw attention to a widespread problem, they've shown that there are consequences for bad actors.
For Tavel, the issue comes down to forging a community capable of calling out those bad actors.
"Anybody who enables this behavior is complicit with the behavior," she said.
Related reading: AI, blockchain and women in VC: Takeaways from TechCrunch Disrupt