3 ways US tax reform will impact private equity
March 1, 2018
After nearly a year of legislative gridlock during President Donald Trump's first 12 months in office, Congress passed the Tax Cuts and Jobs Act of 2017 in late December. The new law was immediately hailed as business-friendly, as it drops the corporate tax rate from 35% to 21%, among other benefits. But in the private equity industry, the reaction was more mixed.
An example of the discord came in mid-January, when The New York Times published
"Why Private Equity Isn't Cheering the Tax Overhaul,"
which argued that reform would change how targets are valued and reduce how quickly PE firms could cash out. Then, less than a week later, The Wall Street Journal countered with
"Private Equity Expected to Benefit From Tax Overhaul,"
which cited a Hamilton Lane study saying PE-owned companies would increase between 3% and 17% in value thanks to the corporate reduction, easily outweighing potential negatives. So much for consensus.
It's surprising the biggest change to the tax code since 1986 penalizes private equity at all, given that Trump's Cabinet
includes numerous PE veterans
, and Blackstone co-founder and CEO Stephen Schwarzman served as the head of the commander in chief's since-disbanded Strategic and Policy Forum. Yet tax reform could have an effect on private equity deal structure, PE-backed portfolio companies and overall dealmaking, among other things.
Earlier this week, accounting behemoth PricewaterhouseCoopers hosted a webinar discussing the potential implications of the tax bill for PE. Here are three takeaways from the presentation, supplemented with added PitchBook data for context:
Carried interest 'reform' will affect ~1/4 of investments
The carried interest loophole has been a controversial topic in private equity going back years, with investors arguing there's nothing unjust about profits being taxed at the lower capital gains rate, which tops out at roughly 20%. After Trump expressed a desire to nix the provision on the campaign trail, he backed down. Instead, the rule will change only slightly under the new tax law, as portfolio companies held for less than three years will now be taxed as short-term capital gains, which are taxed at the normal rate, which tops out at 37%.
How much of a difference will that make? The median investment hold time for US PE firms was roughly 5.2 years in 2017, according to PitchBook data. And just 27% of those portfolio companies were held less than three years. In fact, PE hold times of less than three years haven't made up the majority of PE investments since 2009. The median hold period for US PE investors has trended noticeably upward in the past decade: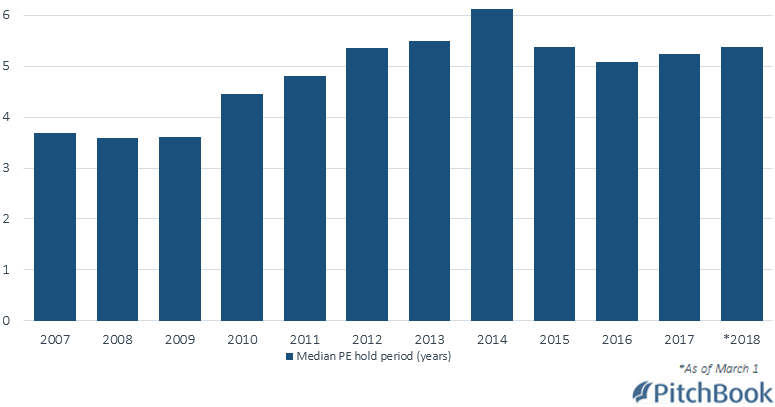 The fundamental structure of LBO's could change
Under the new tax law, interest expense deductibility has decreased to 30% of a company's adjusted taxable income until 2021. Under the old tax law, there was no limit.
In other words, PE firms will no longer have unlimited leverage parameters when conducting a buyout. That could have a variety of impacts: A firm may have to put down more capital up front to complete a deal, find an international lender that can provide more favorable terms or shift a portfolio company's existing debt-to-equity ratio. In any scenario, the post-cash cost of debt will effectively increase, because firms no longer get the benefit of what can be a massive tax write-off when buyouts are in the billions.
"On every deal, we're having to rethink where we're placing the debt and how the debt is being structured into the transaction," said PwC tax partner David Hall during the webinar. "I think the interest limitation is clearly the one that's the most significant along with the corporate rate reduction."
Deal valuations will remain frothy, thanks (in part) to the tax reform
With dry powder approaching record levels and PE deal activity in the US down slightly, don't expect the competitive dealmaking environment to dissipate anytime soon. As a result of the corporate tax decrease, strategic acquirers (hello, Amazon) will have increased capital available for investments. That could make them more formidable rivals for PE firms looking to strike deals and also drive up valuations, according to BDO's latest report.
"What I've seen so far is that the reduction in the corporate tax rate has really allowed for a lot more cash flow despite the stranded interest you're going to have as a result of the (interest expense) limitation," Hall said. "I actually think that you can't just look at it in a vacuum… overall I think you're going to have increased cash flow, which I'm translating to higher valuations."
Check out why more PE firms might be changing to C-Corps in our latest analyst note.