Compensation
A look at CEO vs. CFO compensation at late-stage private companies
October 28, 2019
View comment

(1)
Venture-backed companies are staying private longer. That's no secret.
The consequences of that trend, however, are still playing out, particularly when you look at the many late-stage private companies that have struggled recently upon going public—or even getting to the public markets.
One area to consider in the context of late-stage private companies is executive pay, and we got insight from compensation data firm J.Thelander Consulting into how total cash compensation in the C-suite is shifting.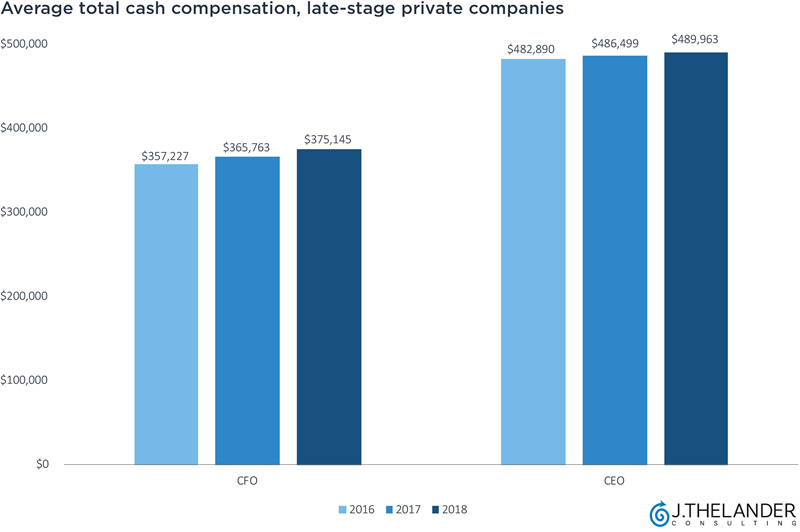 As you can see in the featured chart, average total cash compensation for chief executives has stayed relatively flat over the past few years (<1% annual growth) compared to the steadier uptick for chief financial officers. The growth in CFO pay would seem to indicate that competition is high for qualified, experienced financial executives, particularly as mature companies navigate the crucial junctures leading up to an exit.
This data is from the PitchBook-Thelander Private Company Compensation Report and features companies that have raised at least $110 million in financing. The total number of respondents for CFOs (29, 50, 69) and CEOs (37, 61, 88) increased each year. Total cash compensation consists of base salary plus bonuses, commissions, incentives, etc.
Thelander is currently running its Year End Merit Increase & Option Pool Survey for private companies.
Click here
to take the survey; participants will receive a subset of the results for no charge.
Featured image via AndreyPopov/iStock/Getty Images Plus
For more content related to private company and investment firm compensation, check out our other articles published with Thelander. You can also contact J.Thelander Consulting directly.