Addepar raises $140M amid relatively quiet year for fintech funding
June 8, 2017

Addepar
, a B2B fintech company that offers a data-driven operating system for wealth advisors and other financial professionals, has raised $140 million in a VC round led by Valor Equity Partners, 8VC and Harry McPike. Valor Equity Partners is an existing backer, and 8VC, the venture firm led by Addepar co-founder Joe Lonsdale, previously invested in the company through its predecessor firm, Formation 8. Addepar had raised about $67 million prior to this round and was most recently valued at $292 million in 2014.
Much of the new funding will go toward research and development. "We have an opportunity to build a platform that brings about as profound a change for financial services as Google did for advertising," Addepar CEO Eric Poirier told PitchBook in an interview. The company's products are currently geared toward financial managers, who use Addepar's technology to advise their clients, but it has plans to create a common platform for the entire global financial services industry.
The funding represents one of the
biggest VC fintech deals
so far this year, per PitchBook data. Among the other companies in the financial services industry that have raised significant equity funding in 2017 are online lender
SoFi
($453 million in March) and
Robinhood
, the provider of a mobile stock-trading app ($110 million in April).
Overall, funding in the fintech industry is on pace for a
significant drop in 2017
after experiencing a steady uptick since the beginning of the decade. VC investors poured nearly $13 billion into the industry in both 2015 and 2016, but financing in the space is on pace to hit only about $8 billion this year.
VC investment in fintech since 2010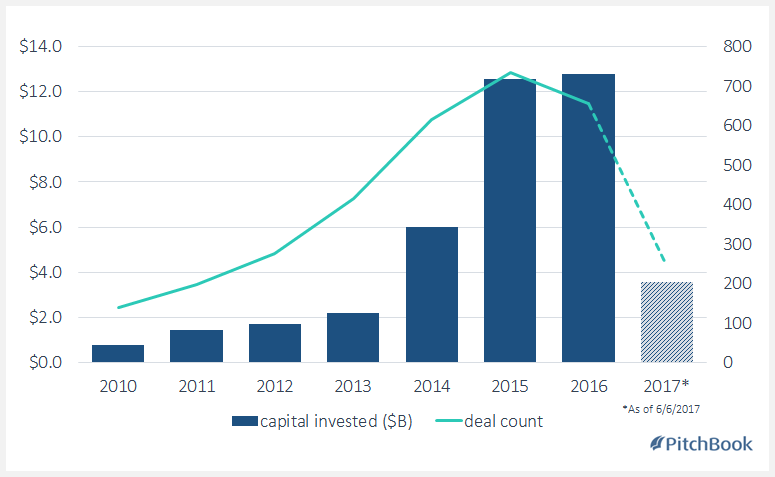 From Poirier's perspective as the leader of Addepar, it's difficult to generalize the VC landscape in fintech because there are so many different pockets within the industry. But in general, he says, the drop in funding could be due to the nature of the finance world.
"A lot of the [fintech] startups got funding because they had a nice pitch. ... But then you're down the road, and it's hard to pass muster in a highly regulated environment," Poirier said. "Then you end up with disappointed investors who are gun-shy because they've been burnt."
Whether VC fintech investment picks up speed over the rest of the year remains to be seen—but as of now, it looks like funding in the space will drop back down to pre-2015 levels.
Check out Addepar's free profile and read more of our fintech coverage.