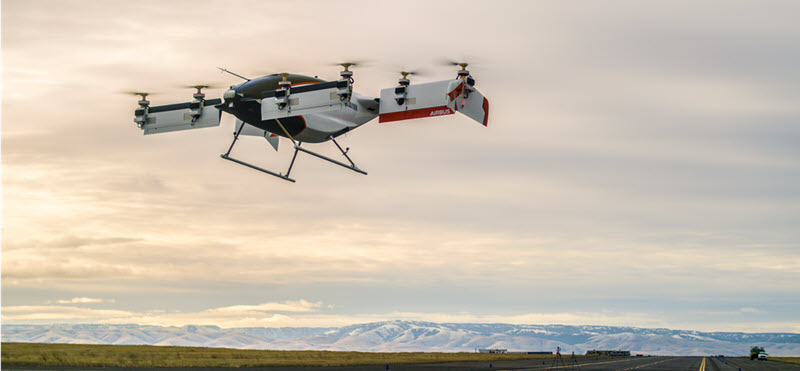 Have you ever been stuck in gridlocked traffic or packed into a germ-filled city bus, and looked skyward with wonder? Up there, there are no busy intersections. No red lights. No metered on-ramps. Just the wild blue yonder.
If only we could commute like the birds.
What was once the realm of fantasy is inching closer to reality: An emission-free, low-noise, on-demand alternative to ground-based transportation at a lower cost than a typical ride-share. Flights would originate from "vertiports" on the tops of parking garages and skyscrapers in city centers, and then deliver passengers to their individual destinations. Every cul-de-sac could be a landing pad.
Thanks to advances in autonomous vehicle and battery density technology, a future of urban on-demand air transportation—via electric-powered vertical takeoff and landing, or "eVTOL," aircraft—is rapidly approaching. A number of VC-backed companies are aggressively pushing forward, Lilium being among the most successful, with a proof of concept already enjoying a successful test flight.
A related but separate effort to develop and bring to market flying cars is gaining traction as well, with the car-plus-gyrocopter PAL-V Liberty debuting at the Geneva Motor Show in Switzerland this month ahead of planned customer deliveries next year. Both Porsche and Audi are also working on flying car initiatives in various forms.
Uber kickstarted excitement in the sector with its "Elevate" initiative, which started with a white paper published in October 2016 and entails partnering with companies including Textron's Bell Helicopter and Brazil's Embraer to explore the—admittedly formidable—regulatory and feasibility barriers to adoption.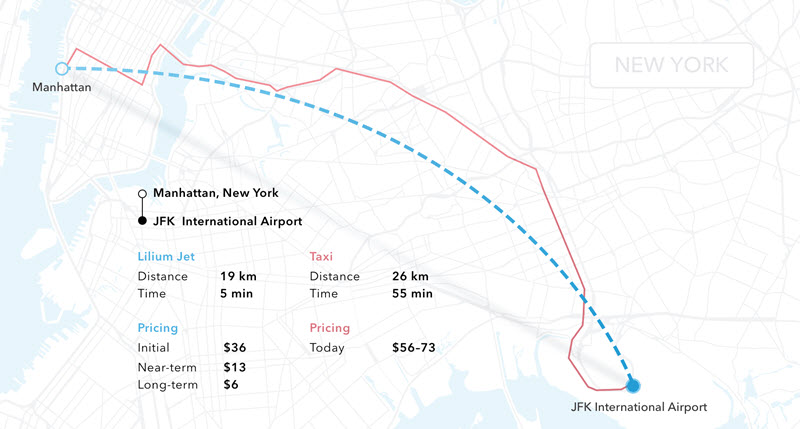 The dollars are flowing in. Two major transactions occurred last November: Chinese automaker Geely bought flying car developer Terrafugia, which is working on an eVTOL car concept dubbed the TF-X, and Boeing purchased eVTOL developer Aurora Flight Sciences for an undisclosed amount. Airbus has multiple concepts in the works, including the Vahana air taxi and the PopUp modular car and airframe system.
In an interview this month with Bloomberg, Boeing CEO Dennis Muilenburg expressed confidence that the company would be ready to sell flying taxis within the next decade, describing the technology as "very doable." NASA is calling for a market study into what it has dubbed "
Urban Air Mobility
."
Aside from technical hurdles, the largest problem to be solved is the regulations: The creation of three-dimensional highways in the sky and the associated "rules of the road" necessary to put hundreds of people into the air over urban centers.
PAL-V is enjoying a first-mover advantage for its decision to develop the Liberty to function within existing rules depending on its operating mode. When it's a car, the vehicle meets automobile safety standards and follows federal regulations. As a gyrocopter, it operates according to FAA mandates for uncontrolled airspace and requires a sport pilot license. Switching between modes takes about 10 minutes.
And as the vehicle is designed today, it could legally fly (and drive) tomorrow. It'll just cost you upward of $400,000.
To get the cost per flight below a comparable taxi or ridehailing trip, as Uber, Lilium and others expect, it'll take autonomy, battery-powered engines and economies of scale. And for that, more work needs to be done.
But nothing motivates like money. And according to UBS estimates, there is plenty of money to be made, as the technology and rules behind urban autonomous eVTOL transportation could eventually be applied to traditional commercial airline travel. Per the same report, UBS analysts believe that airlines, aerospace and logistics providers could save $35 billion per year by embracing pilotless planes.
They also believe pilotless eVTOL taxis could be ready as soon as 2020. As a long-distance commuter who uses an electric vehicle, hybrid bus and ferry to get to my office in downtown Seattle, that can't come soon enough.
6 air taxi/flying car startups to watch
Related read: The sky's the limit: 3 VC-backed companies making flying cars