Compensation
An inside look at where VCs and corporate VCs recruit talent
February 26, 2020
View comment

(1)
Corporate venture capital's growing impact on the VC landscape has been unmistakable.
Venture deals in the US involving a CVC investor surpassed $133 billion in aggregate over the past two years, according to the latest PitchBook-NVCA Venture Monitor—representing a 75% increase over the previous two-year period and a sum nearly on par with the previous four years combined.
But outside of VC transactions, CVC is also after VC talent.
New data from compensation data provider
J.Thelander Consulting's latest survey
shows that 46% of corporate venture firms that made an outside hire in 2019 brought in someone from a traditional VC firm. It's their most popular recruiting target, beating out private companies, other CVC firms and investment banks.
Only 3% of VCs, on the other hand, made a hire from a CVC firm last year—more often targeting investment banks, PE/growth firms and private companies.
Where VCs and CVCs made hires from in 2019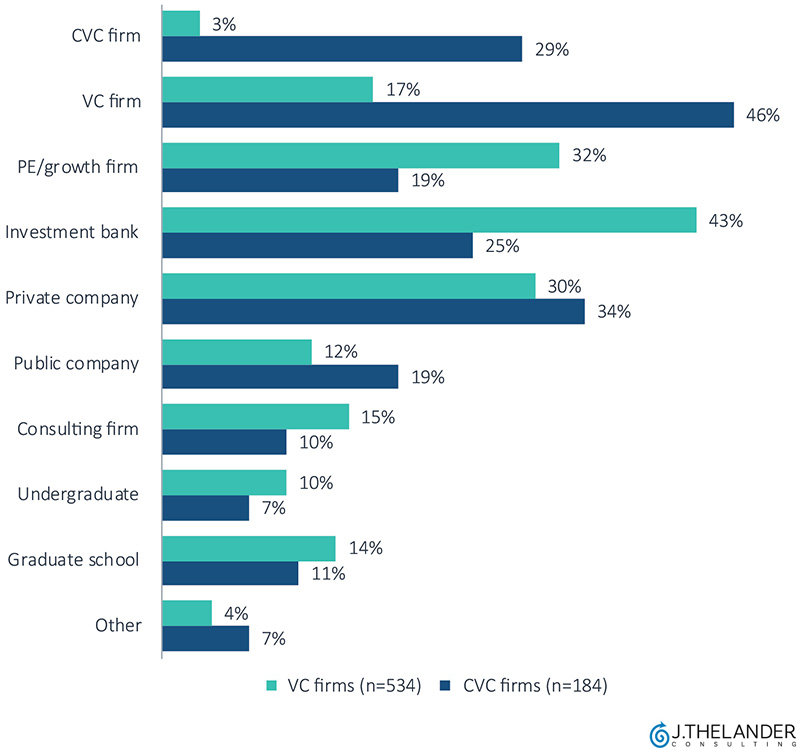 ​​(Note: Percentages don't add up to 100% since firms can make multiple selections. Firms in this dataset had to have made an outside hire in 2019.)
When competing within similar pools for talent, compensation can get competitive, and forms of compensation can vary at a VC firm versus a CVC establishment (outside of the typical salary and bonus structures).
Jody Thelander, founder & CEO of the namesake consulting firm, told PitchBook that VCs lean heavily on carried interest for the big money-making opportunities, but those payments can be inconsistent based on deal and fund performance—thus, more "high risk, high reward." In addition, the vesting time for carried interest continues to extend from the customary five years to upward of seven to 10 years.
CVCs can get a more dependable payout of corporate stock, often restricted stock units that vest on an annual basis, Thelander said, but with limited upside. The vesting schedule for corporate shares is typically three years. Employees at those firms, including lower-level roles, can also earn shadow carry (aka phantom carry or synthetic carry), which is often a bonus pool with a vesting schedule.
As CVC activity continues to grow, and those firms continue to target VCs to fill their ranks, compensation may yet be another risk factor that investors are increasingly forced to weigh.
LAST CALL: Thelander's 2020 Investment Firm Salary Increase & Bonus survey closes this week. Click here to take the survey; participants will receive a subset of the results for no charge and a discount on a subscription.

For information on how to get specific compensation data on salary, bonus, carried interest and more across VC, PE and corporate VC, contact Thelander directly.

For more content on private company and investment firm compensation, check out our other articles published with Thelander.
Featured image via voyata/iStock/Getty Images Plus
Join the more than 1.5 million industry professionals who get our daily newsletter!