The private equity fundraising climate continues to foster massive funds. In the same week GTCR closed its latest effort on $5.25 billion, fellow buyout firm American Securities has set a $6 billion target for its newest flagship vehicle, according to an SEC filing. If that goal is reached, the fund would be the largest in firm history, topping its predecessor, which closed on $5 billion in 2015.
American Securities Partners VIII will be the firm's fourth fund in the past decade—and each of the previous three currently ranks in the top half of
their respective peer benchmarks
, according to the PitchBook Platform. Here's a closer look at the firm's recent fund performance:

The newest fundraising comes at a time when the New York-based firm is ramping up its investment activity. American Securities has already completed
16 private equity deals so far this year
, according to PitchBook data, the largest annual figure in firm history. It's also the second consecutive year that American Securities has set a new firm record for deal count, as you can see here: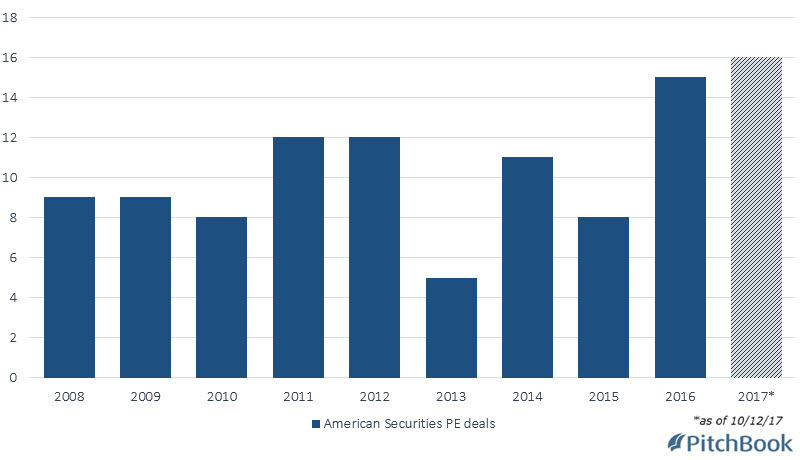 With offices in New York and Shanghai, American Securities typically makes equity investments of between $100 million and $500 million in North American companies. While the firm conducts more deals in the B2B sector than any other, its activities are quite spread out: Dating back to the start of the millennium, only 28% of its PE transactions have been in the B2B space, with four other sectors counting for at least 13%. Combined, the energy and materials & resources sectors have made up more than 25% of America Securities' investments, a much higher proportion than the PE market as a whole.
The firm's highest-profile buyout ever occurred earlier this year, when it acquired Air Methods—a provider of air medical transportation and air tourism services—in a $2.5 billion deal. Before that, American Securities hadn't executed a buyout larger than $1 billion this millennium, per PitchBook data.
Want more? PitchBook subscribers can browse the firm's full investment history.