Apollo Global Management and Blackstone have exceeded analyst expectations with their 4Q 2017 results, as both of the publicly traded private equity giants reported significant gains driven in no small part by a booming stock market.
Apollo announced economic net income of $1.22 per share, nearly doubling reported analyst estimates of 66 cents per share and representing a YoY improvement of more than 24%. The firm's private equity portfolio appreciated 9.1% during the final three months of last year, bringing the PE unit's AUM to $72 billion. For the full year, Apollo's PE holdings appreciated nearly 29%.
Blackstone, meanwhile, logged ENI of 71 cents per share, besting reported expectations of 67 cents per share and representing 4% YoY improvement. The carrying value of the buyout giant's corporate PE portfolio rose 6.8% during 4Q, resulting in full-year gains of 17.6%. Blackstone's private equity AUM, meanwhile, now sits at nearly $106 billion.
All those impressive figures have led to significant changes in the number that's most important for both firms: their stock prices. The value of Apollo's shares increased by more than 66% between January 31, 2017, and January 31, 2018. Blackstone's stock, meanwhile, gained more than 19% in value over the past 12 months.
For Apollo in particular, those numbers reflect explosive growth in private equity during the past year. Here's a chart comparing some of the firm's latest financials with its earnings from 4Q 2016: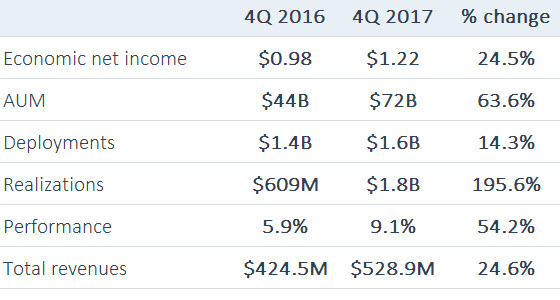 There's one very big reason for that increase in AUM. Last summer, Apollo closed its latest flagship buyout fund on $24.7 billion, making it the largest PE vehicle ever raised. And whose record did the firm break?
Blackstone's, of course.
As you might expect for another of the industry's biggest behemoths, Stephen Schwarzman's firm has been busy in its own right. In the final days of January, Blackstone revealed an agreement to purchase a controlling stake in the Thomson Reuters financial and risk business for $17 billion, a deal that's set to be the firm's biggest single investment since the onset of the financial crisis.
We've got lots more coverage of Blackstone and Apollo.