Another quarter, another round of outperformance for large funds. Rolling one-year horizon IRRs have been consistent of late when broken down by fund size, and $1 billion-plus global PE vehicles once again bested their smaller peers in recent returns. Much of that recent outperformance might be traced back to mark-to-market gains, which have helped boost private market comparables. Larger funds tend to hold larger portfolio companies that are more closely related in size to public companies. Those fund managers are then able to more aggressively mark up their current portfolios in tandem with the rise in public equities.

On the other hand, smaller funds with less than $250 million have lagged behind their peers. Since 2010, sub-$250 million funds have outperformed the other three size buckets in only four quarters—all consecutively between 2Q 2012 and 1Q 2013, per data collected through September 30 in our recent Global PE & VC Fund Performance Report. The recent performance of smaller vehicles is less compelling, underperforming all other size buckets for 12 straight quarters (and counting).
Rolling one-year horizon IRR by global PE fund size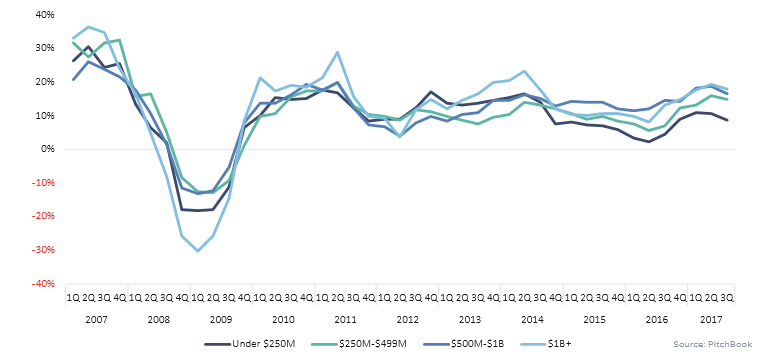 How far should we look into this? Perhaps not too far—deciphering trends in PE fund performance can be like nailing Jell-O to the wall. Even general findings of persistence require caveats and asterisks. This particular study is of shorter-term, rolling returns and is not representative of the life of the fund. Other academic studies have found outperformance from smaller funds against their larger counterparts. Wherever the truth lies, recent performance impacts perception, especially when LPs re-up their commitments.

The fact that larger funds are currently outperforming their peers only adds to the pile of reasons for the recent success of large fundraises and the relative difficulty of smaller fundraises. LPs continue to consolidate the number of relationships they manage with private equity GPs. That favors larger funds, which are happy to take in larger dollops of capital as a result. A 2017 survey by Palico underscored the trend, finding almost half (47%) of surveyed LPs were willing to "target lower performance if an opportunity permits an exceptionally large investment." Time will tell if that's a wise trade-off, but at least some slices of data suggest there isn't much of a trade-off at the moment.

This column originally appeared in The Lead Left.

Interested in reading more about fund performance? Check out our latest Global PE & VC Fund Performance Report.