Blackstone has agreed to buy from Aon (NYSE: AON) the company's technology-enabled benefits and HR platform for $4.8 billion cash, consisting of $4.3 billion at the deal's close (expected by the end of 2Q) and up to $500 million more based on future performance. While Aon is based in the UK, the platform, currently part of the company's Aon Hewitt subsidiary, provides cloud-based management services for roughly 15% of the entire US working population.
The year is still young, but the deal is
the biggest new buyout announced so far in 2017
, according to the PitchBook Platform. Blackstone is also responsible for the largest buyout completed during the past six weeks, according to the Platform, a $6.1 billion takeover of TeamHealth that was first announced last Halloween.
Of note on the list of the year's largest announced deals is the concentration of companies located in Europe. Four of the five biggest new buyouts of 2017 have occurred outside the US, with the one outlier being (of course) another Blackstone acquisition, a $2.3 billion deal for oil & gas assets in southern Texas previously owned by Anadarko Petroleum. Outside the energy sector, in fact, there's yet to be a $1 billion buyout of an American company so far this year.
Blackstone's deal to acquire the Aon HR platform is a major development in the European software sector, an industry that's been the site of near-constant growth this decade. Investors completed
a mere 145 European software deals in 2010
, according to the Platform, but that figure climbed all the way to 326 last year. That number has increased five of the past six years, with a minor dip in 2013 the only exception.
European software PE deal flow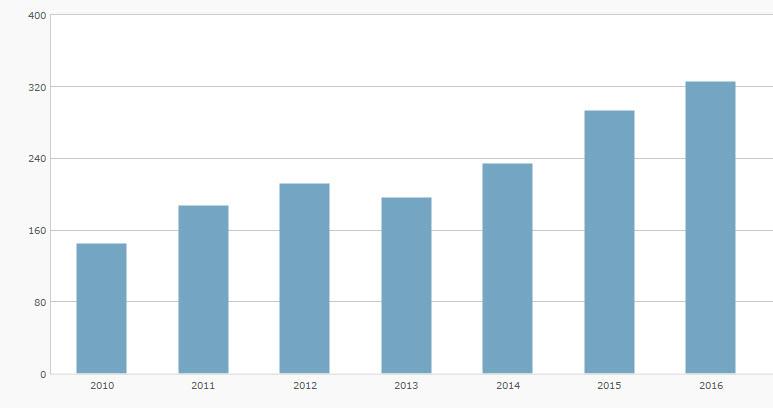 Unsurprisingly, the majority of those deals have taken place in Europe's largest economies: the UK (28.7%), France (15.9%) and Germany (12%) combine to account for nearly 57% of all software activity in the region. After that, the northern and western parts of the continent dominate, with Sweden, the Netherlands, Norway and Denmark rounding out the top seven.
And who are the firms leading that upsurge in the space? Here are the nine PE investors to complete the most investments in European software companies since the start of 2010, including add-ons:
1. HgCapital (41)
T-2. LDC (28)
T-2. KKR (28)
4. Summit Partners (18)
5. Verdane Capital (17)
6. Main Capital Partners (16)
T-7. TA Associates (15)
T-7. Cinven (15)
T-7. AP Fonden 6 (15)
PitchBook subscribers can see the full list
here
. Not a user but want access?
Contact us today
.