Buy and Build: The New PE Model for a Post-Crisis World
By James Gelfer
February 25, 2014
When private equity was coming of age, the use of leverage and financial engineering was often more than enough to drive returns. The perceived ease of private equity success enticed a wide range of new players into the asset class through the 1990s and 2000s, with the more well-connected investors touting their access to "proprietary deal flow" as a key differentiator. Now that the industry is mature, PE firms have come to grips with the fact that the fundamentals of PE investing have changed in a systemic way.
Even though debt is relatively attractive for the time being, it is simply not possible to lever companies as far as they were in the past. Higher levels of competition mean that finding a discount is virtually impossible, and the idea of proprietary deal flow has become something of a joke, as practically every firm now touts the capability. But as public pensions, sovereign wealth funds and other large institutional investors continue to maintain strong allocations to private equity, there is certainly no shortage of capital available to investors.
Laggard firms are predictably having trouble raising new funds, but the real challenge for many investors in recent years has been finding a prudent way to put capital to work. The amount of dry powder available to U.S.-based PE funds has essentially been stagnant around $450 billion since 2009, which is relatively high by historical standards. Realizing that they need to either invest this capital or return it to investors (in which case they forfeit lucrative management fees), many firms have been exploring new ways to deploy their funds.
A common theme among investors has been a heightened focus on businesses with strong growth prospects, as opposed to struggling companies that need to be turned around. Growth equity deals, where an investor makes a minority investment to fuel expansion, are becoming increasingly common for firms that traditionally focused on large buyout deals. But the more significant development—and one that appears to be a long-term shift in the PE model—is the rise of add-on deals and the so-called buy-and-build model.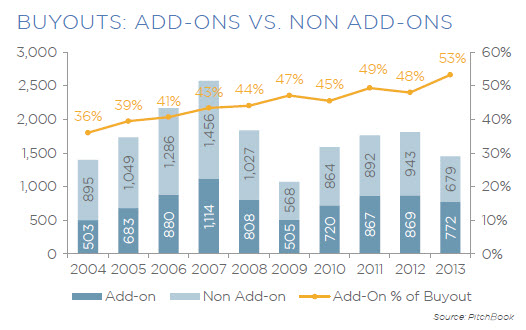 Add-on deals, where a firm acquires a business to combine with one of its existing portfolio companies, represented just 36% of all buyout deals in 2004, according to PitchBook data. As the changes outlined above have manifested themselves over the last decade, however, add-on deals have steadily become a larger part of the PE model to the point where there were more add-on transactions than platform buyouts in 2013. Here are some of the main factors that have led to this development:
Focus on Growth: With leverage and financial engineering no longer the centerpiece of the PE model, PE firms have turned to growth in order to generate returns. But there is only so much that can be accomplished organically. Add-on deals provide a straightforward way to add product lines, enter new markets or simply diversify. "The fundamental business model for private equity is pretty well-ingrained now in doing platform and then add-on acquisitions to accomplish EBITDA and revenue growth," said Milton Marcotte, practice leader of transaction advisory services at McGladrey.
Dry Powder: Add-ons offer investors a viable way to put capital to work while simultaneously improving the prospects of an existing portfolio company. Targets in add-on transactions tend to be smaller and on the radar of fewer investors, which can lead to lower competition and more attractive pricing.
Economies of Scale: Perhaps the most straightforward reason to complete an add-on deal is to achieve economies of scale—which is a primary motivator of M&A transactions of all stripes. Combining two similar businesses allows investors to eliminate redundancies, gain price advantages with suppliers and standardize systems. Healthcare is an industry in which add-ons are especially popular, particularly for facilities like outpatient clinics and centers that provide targeted care. "Healthcare is very fragmented, and you need PE to come in and solve some of these inefficiencies, which leads to a lot of add-on deals," said Ron Ellis, director of transaction advisory services at McGladrey.
For more articles detailing the ins and outs of private equity, check out our Knowledge Center.