Buy, build, repeat
April 20, 2018
The buy-and-build strategy has largely displaced private equity's early playbook, which relied on financial engineering and ambitious leveraging to generate profits. To be sure, add-ons have been on PE's radar even before the crisis, though to a much smaller degree.
Per our recent
analyst note
, about half of all global add-on transactions prior to 2009 were "one-and-done's"—that is, the PE sponsors that did add to their platforms usually did so only once or twice before exiting. Starting around 2010, the number of third, fourth and fifth add-ons per platform began to gain in popularity, with the 5+ category visibly beginning to change in 2014. Roughly a quarter of all global add-ons completed since 2014 were at least the fifth deal in a platform's buy-and-build strategy. It's also worth noting that among the most active acquirers is a concentrated group of platforms that have been the driving force behind the recent boom—more than 10% of the most recent transactions represented at least the 10th add-on for their respective platforms.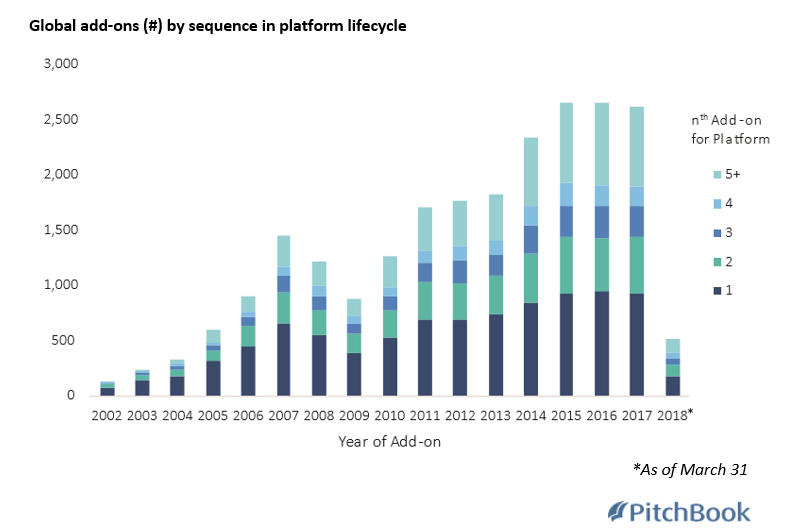 The buy-and-build strategy is most prevalent in highly fragmented industries such as financial services and healthcare. The insurance sector also makes for a striking example, with platforms like
Hub International
completing more than 200 acquisitions under PE ownership, per the PitchBook Platform. Similarly,
Confie Seguros
, which has been backed by
ABRY Partners
since 2012, has made more than 75 add-ons over the past six years, again per PitchBook data. Confie was a relatively small outfit six years ago, but now boasts a national footprint geared toward the underserved Hispanic market. Its experience is similar to other platforms, which have acquired thousands of smaller businesses (often with a dozen or less employees) that fetch much cheaper valuations and help blend down the multiples paid for the original platforms. Many add-ons are now agreed upon before the platform is even acquired.
This massive shift toward the buy-and-build model has had broad ramifications. Beyond the changes to the PE playbook, add-ons have contributed to longer holding periods for the platforms themselves. This makes sense, given the time and effort needed to fully integrate each new company into its new home. Historically, it has taken investors about a year longer to exit investments that made add-ons under PE ownership compared to those that haven't. Not surprisingly, hold times are even longer for platforms with multiple add-ons. While the benefits of buy-and-build seem to outweigh the negatives, LPs should note that this shift is impacting fund timelines across the board.
Note: This column previously appeared in The Lead Left.
Want to read more about add-on activity? Check out our recent analyst note on additive dealmaking.