This article was based on PitchBook's recent fintech analyst note on ICOs from analyst Evan B. Morris.

In the future, the on-demand economy could run entirely via custom blockchain applications.
Uber, rather than relying on venture capital, could issue an initial coin offering (ICO) or token sale that buyers could use to hail rides, allowing drivers to then mine the tokens by accepting them.
Drivers and riders alike would have a greater sense of ownership if they held on to some of the unique Uber tokens, which in turn would increase in value if the company flourished. And according to research from
a recent PitchBook breakdown of initial coin offerings
, along with fresh data from the PitchBook Platform, this future may not be far off.
What are ICOs?
ICOs are a type of crowdfunding for blockchain projects where shares of a company are issued in the form of cryptocurrency or tokens. The mechanics of an ICO involve first setting up a website and whitepaper with information about the business model and founding team. Details in the whitepaper will include the problem the platform is trying to solve, management structure, plans for development and allocation of resources. Buyers then deposit an established cryptocurrency such as ethereum or bitcoin to receive a private key (in the form of a cryptographic algorithm) for the new tokens.
Coin offerings to dwarf VC investment in blockchain
According to CoinDesk, blockchain-related projects have raised more than $1.6 billion via ICOs to date, with a huge chunk of that figure, around $1.4 billion, raised in 2017. On the other hand,
crypto-companies have pulled in nearly $550 million
from venture capitalists so far this year across more than 120 deals, per the PitchBook Platform. That's roughly a quarter of all the VC that has gone into bitcoins startups since the beginning of 2010 when the first bitcoin-related startups began to fundraise.
While VC activity within the blockchain space shows no signs of slowing down, capital raised via ICO since January is on pace to surpass all historical VC investment in the blockchain space by year-end.
VC investment in blockchain-related companies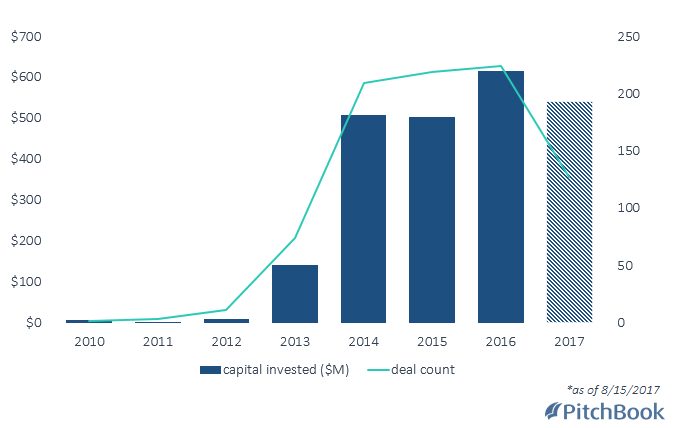 VCs adjust to cryptocurrency boom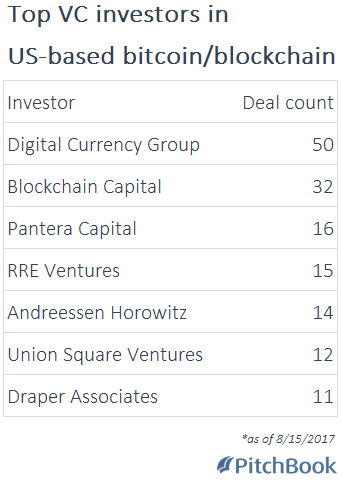 As capital raised via ICOs spikes, the VC industry is making adjustments from every angle to support the bitcoin-enamored.
VC firms, for example, are participating in coin offerings and VC-backed startups are conducting them. Just this week, Protocol Labs reportedly completed the largest ever ICO, raising $193 million on top of a $52 million "pre-ICO raise," which saw participation from Sequoia and Andreessen Horowitz—the latter being one of the
most active VC investors
in US-based bitcoin/blockchain companies. In July, online payments company Omise, backed by VCs including Golden Gate Ventures, announced it had raised $25 million through an ICO, becoming the most established tech company to complete the process at the time, per TechCrunch.
Blockchain Capital, whose debut fund was the first to invest solely in the blockchain/bitcoin ecosystem, began raising capital for its third fund earlier this year. The startup incubator Science announced it was launching a blockchain program, which it will in turn fund via an ICO. And new types of investment vehicles launched, like Polychain Capital and MetaStable, which invest directly in blockchain protocols via ICOs; the latter was co-founded by AngelList CEO Naval Ravikant.
Read the full PitchBook analyst note on ICOs.

Or check out our previous coverage of the bitcoin space.
Join the more than 1.5 million industry professionals who get our daily newsletter!