Activists, shareholders and corporate boards are all increasingly vocal about focusing on core investments, which often translates into selling off non-core assets. Not every PEG is experienced in carveouts, which are riskier and more challenging than standard buyouts. But for investors who have done them in the past, the current market is presenting more opportunities than usual to buy "orphans" and form standalone businesses. Corporate sellers are taking into account after-tax savings stemming from the 2017 tax cuts.
The 35% to 21% corporate tax rate reduction means, among other things, larger cash infusions from any non-core sales going forward. Would-be sellers have plenty of PE buyers at the ready, who themselves have a mountain of dry powder to put to use. That explains a notable trend unearthed by Ernst & Young's 2018 Global Corporate Divestment Study—71% of respondents who recently made a major divestment said the sales were prompted by "opportunistic and unsolicited offers," up from 20% of the same type of respondents in 2014. A good chunk of those offers are coming from PE investors.
Our
recent M&A Report
shows a similar trend. The percentage of North American and European carveouts being conducted by buyout firms is rising, in part due to a slowdown in strategic-led carveouts. That makes sense. Strategics can be both buyers and sellers, but as industries consolidate and companies look to become more efficient, it's less logical to pick up assets that don't fit in well with a competitor.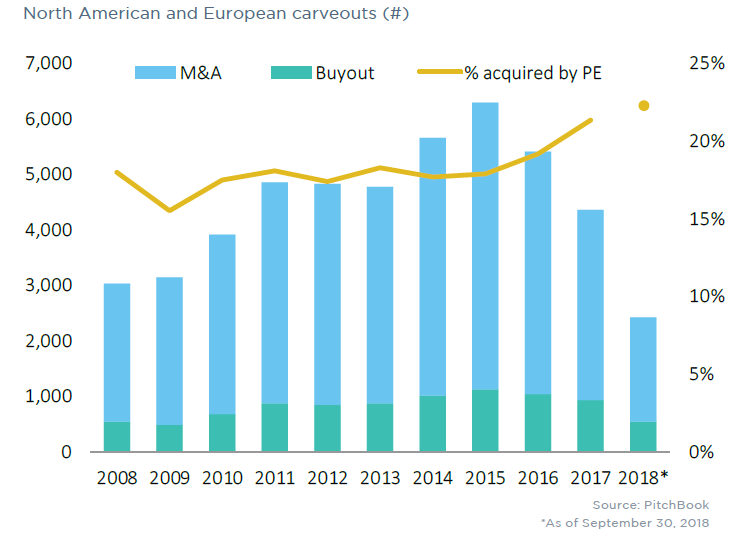 Buyout firms are often the better choice, as long as standalone EBITDA assumptions are reasonable. PE firms with carveout experience have improved their skills over time, and some now have playbooks to rely upon going forward. With so much uncertainty at the moment, we may see a strong showing for PE-led carveouts in the near future.
This column originally appeared in The Lead Left.
Read more about carveouts in our 3Q 2018 M&A Report