Casting a bigger shadow: LPs taking more to the frontlines of PE & VC
May 9, 2016
Canada Pension Plan Investment Board has been busy putting its capital to work as of late—but not simply with passive commitments to GP-managed vehicles, as one would typically expect from a pension fund. So far in 2016, CPPIB has participated directly in eight private equity and venture capital deals, including the sizable $4.6 billion buyout of Petco alongside CVC Capital Partners.
Though CPPIB is certainly known as one of the more active practitioners of this approach, it's not alone in seeking ways to deploy capital outside of conventional, blind-pool commitments. Dubbed "shadow capital" by many, this niche-but-growing strategy of LP investment activity can take several forms, such as managed accounts, lending and deal participation through co-investments (LPs investing alongside their GPs) or direct investments (LPs investing outside of their GP relationships).
Why seek returns through shadow capital? For LPs, the incentives include lower fees, more control over investments, and the opportunity to gain more (varied) investment experience. Though shadow capital can challenge the LP-GP norm, GPs can benefit by sharing in the risk and capital related to these deals, as well as strengthening relationships with LPs.
We sourced the PitchBook Platform for the data behind these strategies and found that LP participation in PE and VC has remained elevated in recent years. LPs took part in 168 completed deals in 2015, a 23% rise from three years prior. The first quarter of this year saw 40 deals with LP participation—a 25% jump QoQ and 21% increase YoY—and a total of 53 deals have been closed in 2016 thus far.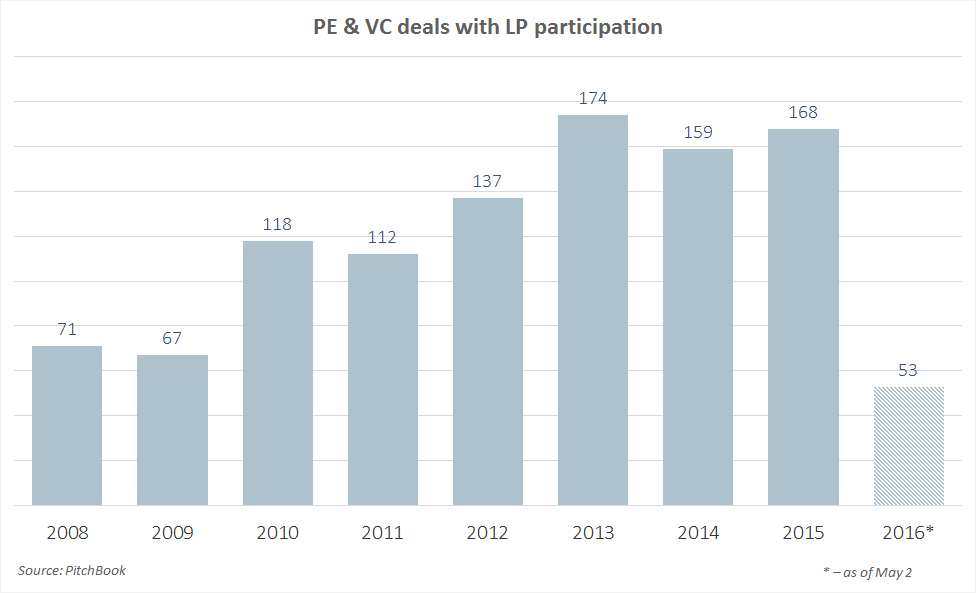 VC has seen a more notable increase in LP-involved deals than PE. LPs participated in around 90 to 100 VC deals each year from 2012 to 2015, a jump from the roughly 40-to-60 range from 2008 to 2011. What's more, LPs have invested in 36 VC deals in 2016 thus far, tracking for another big year.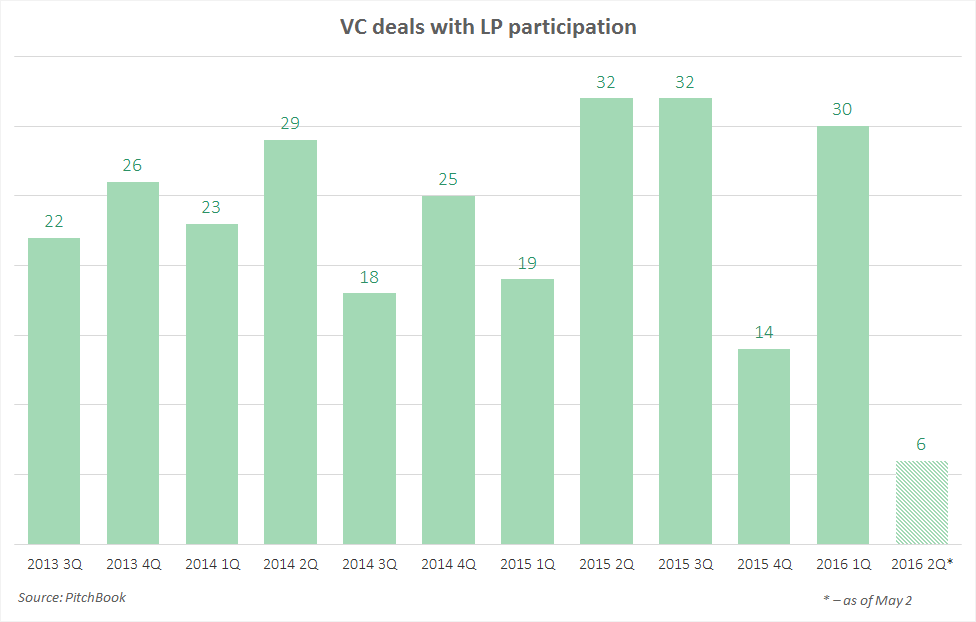 What's interesting on the PE side is that an LP as the sole investor in a deal has become much more common. According to PitchBook data, nearly 20% of LP deals last year had the LP as the sole investor, compared to 14.5% two years earlier. One such deal in 2015 was CPPIB's £1.1 billion acquisition of Liberty Living, a student accommodation provider in the U.K.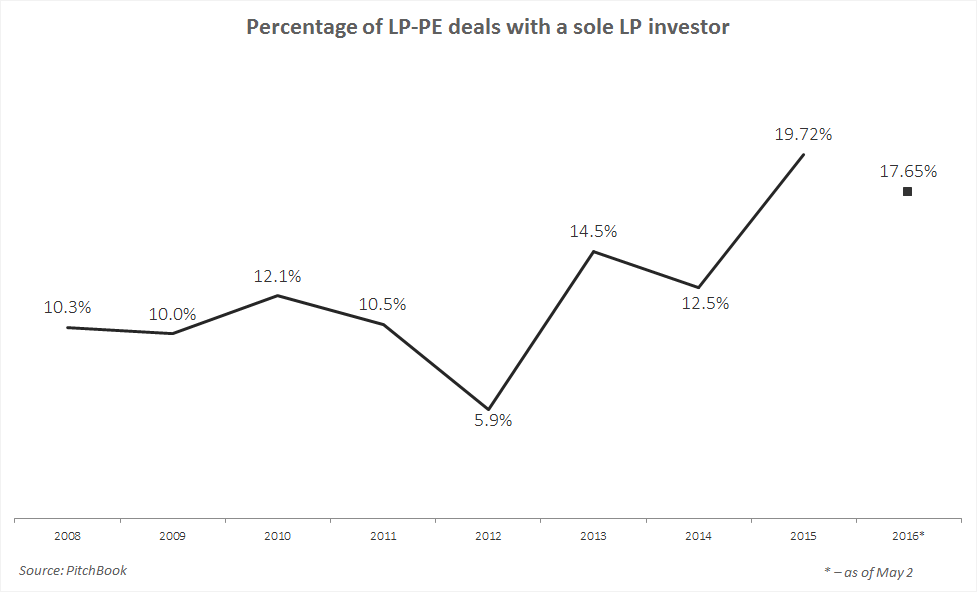 Here are a few notable deals with LP participation since 2015:

PitchBook users can get an exclusive look at our full dataset on LP participation in PE & VC deals.
Explore the PitchBook Platform for more data on investment trends by investor type, industry, region and more: Contact us today for a free trial.