China
China-driven M&A in North America is nearly MIA this year
November 1, 2019
North American M&A activity involving Chinese buyers has fallen off a cliff this year. That's not a complete surprise, but it's not often you see such swift drop-offs without something alarming going on. China-driven M&A is on pace to fall by more than 90% from its 2016 peak, according to PitchBook's
3Q 2019 North American M&A Report
.
Just over $20 billion worth of North American M&A deals with Chinese acquirers have been consummated this year through 3Q, which would have been a blip in 2016, when $298.5 billion changed hands. Combined M&A value figures treaded water over the past two years, at least comparatively, and a few big deals were executed. In the background, though, volume slid very quickly, from 696 deals in 2016 to 496 in 2017, then to 274 deals last year, and finally, to only 73 so far this year: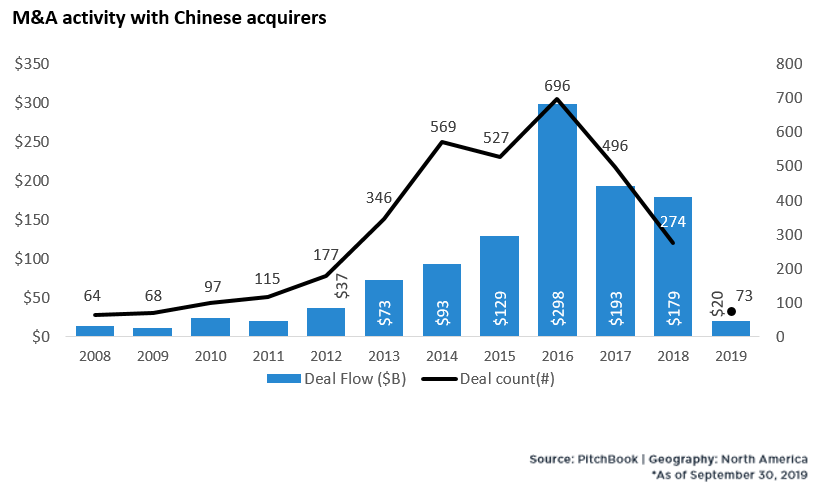 US-based companies and Chinese acquirers have more or less ceased doing business, at least for now. Some of that is collateral damage from the trade war, but more of it is likely related to The Committee on Foreign Investment in the US. The CFIUS has effectively blocked several major transactions, mostly on national security grounds.
The list of affected sectors is broader than aerospace and semiconductors—reviews are now triggered for energy, transportation, healthcare and even financial services companies. Taken together, the regulatory territory covered by CFIUS reviews is quite extensive. The market is now very aware of the penalties involved, thanks to high-profile deals being scuttled by regulators—including some completed deals that had to be unwound after the fact. It would be interesting to track all of the broken deal fees and legal expenses involved in the deals that didn't make it into the chart above.
It isn't clear that an end to the trade war would lead to an immediate recovery in the M&A market. Activity would pick up to some degree with an agreement, but most of these cross-border cancellations boil down to those security concerns, many of them well-founded. As long as Donald Trump remains in office, China remains communist and we continue to give each other the side eye, it may be radio silence on the M&A front for a while.
This column originally appeared in The Lead Left.
Featured image via Feodora Chiosea/iStock/Getty Images Plus
Read more about North American M&A activity in our recent report.