Colony Capital, the global private equity arm of Colony NorthStar, has begun negotiating to buy "all or a significant portion" of The Weinstein Company, a move that comes about a week after co-founder Harvey Weinstein was fired amid sexual harassment and assault allegations. In addition, the buyout shop has entered a preliminary agreement to provide the production company with an immediate cash investment aimed at stabilizing operations.
The news marks the latest twist for the independent film company after numerous women have come forward with allegations that Weinstein sexually harassed or assaulted them in incidents dating back to the 1980s. The company's board subsequently fired Weinstein on October 8. Amid rumors that Weinstein Co. might dissolve or look for a buyer, Bob Weinstein, Harvey's brother and fellow co-founder, told several media outlets last week the production company behind award-winning films such as "Shakespeare in Love" and "The King's Speech" wasn't up for sale.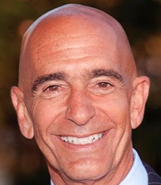 Founded by real estate magnate Thomas Barrack (pictured, right), Los Angeles-based Colony Capital is no stranger to the film industry. In 2010, the firm led the purchase of Weinstein-founded film studio Miramax from Disney for a reported $660 million, then sold the movie production company to beIN Media Group last year. (Colony Capital is no stranger to controversial investments either, having acquired Michael Jackson's Neverland Ranch in 2008). Barrack is also known for his close friendship with President Donald Trump; earlier this year, he headed up Trump's inauguration committee.
Colony Capital has been selective with its investments, with just
33 completed deals since 2008
, according to the PitchBook Platform. But the firm's selectiveness hasn't deterred it from possibly picking up Weinstein Co., which Harvey Weinstein told The Hollywood Reporter was worth between $700 million and $800 million last year.
On a broader level, PE investments in the movie, music and entertainment sector are
on pace to drop for the second consecutive year
after the industry peaked with 104 deals in 2015.
Want to learn more about Colony Capital? PitchBook subscribers can access the firm's full profile.