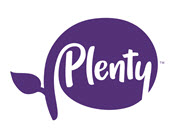 The SoftBank Vision Fund has made its first major investment into agricultural technology, leading a $200 million Series B for indoor farming startup
Plenty
. Whether or not the injection of funds is the beginning of a foray into a new industry for the Japanese telecom giant, it puts the agtech sector on pace to procure a record amount of capital this year. A more lucrative era for agtech companies, which have previously netted more modest fundings, may also be in sight.
The funding also marks the
largest round of VC funding for an agtech startup
to date, per the PitchBook Platform, bumping renewable energy company
Sapphire Energy's
$144 million Series C out of the top spot. With that kind of VC interest and momentum in the space, it likely won't be long before the Silicon Valley-based Plenty—or a different company—becomes the first agtech unicorn. A startup in the space has yet to join the growing list of
nearly 200 companies
that have attained $1 billion-plus valuations.
Plenty will use the new funds to continue building indoor vertical farming technology designed to expand urban food production to grow fruits and vegetables. The company's urban-warehouse farms leverage machine learning, the IoT and Big Data to optimize the growing environment for crops and minimize the amount of water and energy used. Founded in 2013, the startup had previously raised $26 million from funds run by Amazon CEO Jeff Bezos and
Alphabet
chairman Eric Schmidt, as well as some VC firms, including DCM Ventures and Finistere Ventures.
Including Plenty's recent deal, $855 million has been invested into agtech companies across 115 deals so far this year. That's more than the entirety of VC dollars spent in the space in 2015 and not far from the $1.16 billion spent throughout last year.
Here's a closer look at VC investment in the agtech space: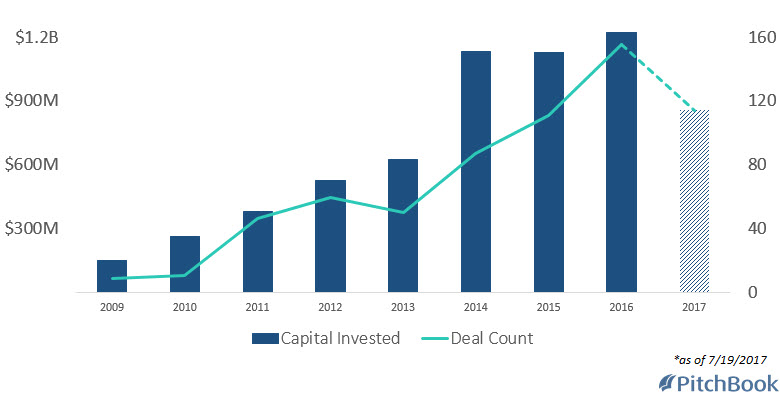 Check out our previous coverage of the agtech space. PitchBook subscribers can access the full data on VC investment in agtech startups.