Already struggling to raise capital for a proposed $40 billion infrastructure vehicle,
Blackstone
sustained another setback Wednesday when White House press secretary Sarah Huckabee Sanders told reporters she didn't expect President Donald Trump's infrastructure legislation to arrive in Congress in 2018.
"We're going to look at ways to continue to improve the nation's infrastructure but in terms of a specific piece of legislation I'm not aware that will happen by the end of the year," Sanders said.
The American Society of Civil Engineers has estimated that US infrastructure will require an additional $2 trillion in funding over the next decade. And it was thought that private investors would help carry the load, an idea Trump made clear in a 53-page infrastructure plan sent to Congress in February.
That seemed like good news for Blackstone, which announced about a year ago plans to raise a $40 billion infrastructure pool, with the Public Investment Fund of Saudi Arabia pledging to match up to $20 billion in outside commitments.
But even before this week's admission from the White House that its infrastrucutre legislation is unlikely to arrive any time soon, fundraising didn't appear to be going smoothly. In April, The New York Times reported that Stephen Schwarzman's buyout juggernaut had not finished an initial round of funding and had dropped the overall target to $15 billion after picking up just $575 million in commitments. Among the reported problems is the desire of Saudia Arabia officials to implement a committee that would guide the fund's investments.
On a broader level, US infrastructure fundraising has been up and down over the past decade, with the total annual capital raised
peaking at nearly $21.7 billion in 2016
before dropping to some $17.4 billion in 2017, according to the PitchBook Platform. This year is on track for a much lower total, with just $1.9 billion worth of capital raised so far.
Check out the full dataset:
​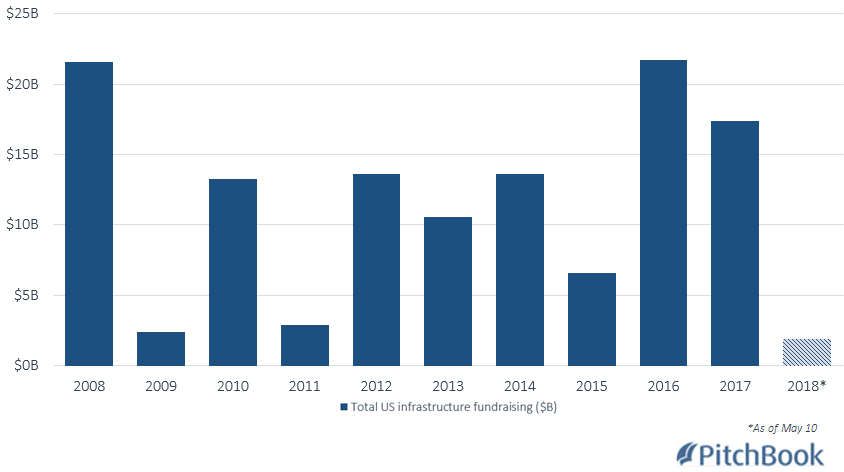 Blackstone is also seeking $8 billion for its eighth flagship secondaries fund, according to Private Equity International, hoping to top a predecessor that reeled in $7.5 billion in early 2017. The firm is also reportedly looking to capitalize on rebounding oil prices and hold a first close on more than half of the $4.5 billion it's targeting to invest in energy deals through Blackstone Energy Partners III.
See Blackstone's full fundraising numbers in the PitchBook Platform.