Benchmarking Report
Despite an active PE industry, drawdown rates have remained slow since 2012
September 6, 2019
Record years for PE activity are often viewed as fast-moving frenzies, but capital call statistics show the industry is investing much more slowly than it has in the past, according to our
latest Benchmarks Report
.
Drawdown rates have been relatively slow since 2012, even though 2014, 2015, 2016, 2017 and 2018 were all record years for deal volume, per PitchBook data. That's partially due to more buyout shops in the market—it wasn't until 2017 that the number of active PEGs actually went down year-over-year, which was a first. It's a much bigger industry moving at a slower pace these days.
For example, pre-2000 vintages had, on average, called down about 67% of their capital by each fund's three-year mark. By contrast, 2012 to 2015 vintages had called down just over half (53%) by the same point in time.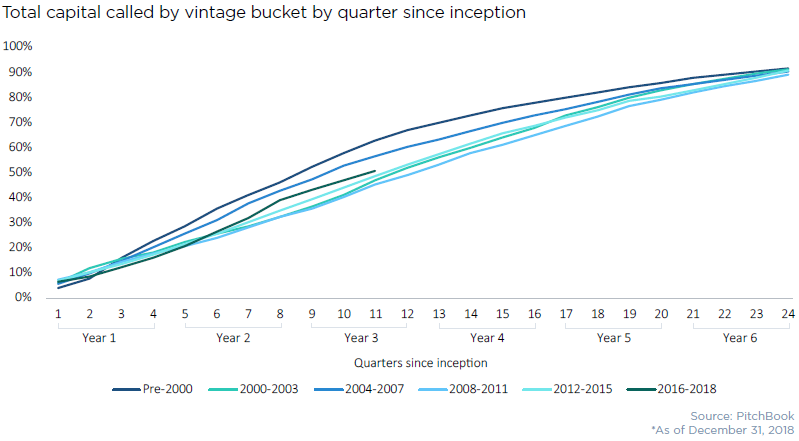 Much more broadly, though, drawdown rates appear to ebb and flow depending on market dynamics. Capital is deployed more quickly in positive economic environments, hence the two "quickest" vintage buckets were pre-2000 and 2004 through 2007. Pre-2000 vintages called down more than half of their capital almost a full year faster than vintages from 2016 to 2018 did.
The inverse is also true, with recession-era vintages deploying capital at a visibly slower pace.
It took 13 quarters for 2008 to 2011 vintages to draw down half of their fund commitments compared to just 10 quarters for the 2004 to 2007 bucket.
PE firms behave like the rest of us in some ways, exuberant when prices are high but trigger-shy when they drop. They just have to pay attention to the clock more than we do.
Featured image via MicroStockHub/iStock/Getty Images Plus
This column originally appeared in The Lead Left.
Read more about drawdown rates in our latest Benchmarks Report