PlayBook 3Q 2019
Do not pass go: Regulating Big Tech would risk dismantling startup exit routes
September 26, 2019
This story is featured in the 3Q 2019 issue of the PitchBook Private Market PlayBook.
The world's largest tech companies wield unparalleled power over public discourse, consumer spending and, to no surprise, the ecosystem that fosters emerging technologies. These tech giants have recently come under increased scrutiny from regulators, with statements and actions from the US Department of Justice and Federal Trade Commission strongly intimating that the likes of Amazon, Apple, Google and Facebook may need to be broken up to preserve competition. Meanwhile, we, the people who buy iPhones and search on Google for answers to literally everything—often on those same iPhones—have seen public sentiment shift in that direction, as well.
The collective hand-wringing has drawn politicians from the left, right, center and both sides of the Atlantic into the fray. A
recent survey
of more than 2,000 US voters found that about two in three people polled support the federal antitrust reviews underway.
However, with more than two-thirds of those polled also saying the services supplied by these tech behemoths—most of which at no cost—help consumers and 63% saying the companies are helping innovation in the US economy, there's hardly consensus. Over 62% of those polled think these companies have stimulated job creation in the US.
Basically, we may never achieve what now passes for consensus in policy conversation. And consumer harm, the principal barometer for gauging the damage of anti-competitive behaviors, can be an inadequate measure for ensuring competition, particularly for companies that engage in M&A to improve the scope of their enterprise.
What's more likely is that significant moves to break up Big Tech would stifle innovation rather than support it by fixing something that isn't really broken. Historically, M&A has served as an invaluable exit route for startups, particularly those that are effectively features rather than fully fledged companies—think plug-in rather than rival browser—and are thus without another realistic "out" for investors seeking liquidity along another route, such as an IPO.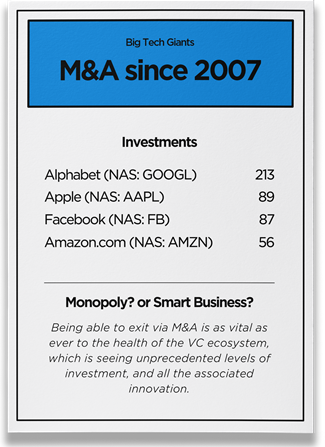 The four Big Tech giants have completed a combined 445 M&A deals since 2007, though as presidential hopeful Elizabeth Warren pointed out earlier this year, it's really just a handful of strategic acquisitions that may represent monopolistic moves. Think Facebook's roughly $22 billion WhatsApp deal or Google's Android purchase. On the back of these transactions, the tech giants have actually upped the competition in the space by upping their competition with each other—often more than many realize.
Not only has the consolidation spurred by Big Tech not followed the same competition-squelching patterns of monopolistic practices embraced by industry titans of old, but today's tech giants have hardly reduced the number of available emerging tech targets. Strategics of every size and shape want growth, and they're often looking to emerging tech to alter the scope, not just the scale, of the enterprise to get it. A great example of such a deal is Facebook's $1 billion acquisition of Instagram in 2012. The thing to remember is that the deal helped Facebook reinvent itself into a mobile company during the same year as its IPO.
The Instagram purchase may well be one of the deals of the century, but Mark Zuckerberg didn't merely buy what he and his team of engineers couldn't build. Instagram has revolutionized how people post to social media, providing advertisers an object lesson in new ways to tap into novel network effects.
Therein may lie a challenge for regulators, as consolidation has failed to reduce the competition for emerging tech assets. Moreover, corporate giants aren't the only ones entering the market to buy up these companies in search of game-changing technologies. Today's tech titans must compete for the best targets with private equity firms and, increasingly, other VC-backed startups.
Overall, this stiffening competition has helped to push the median M&A deal size in North America to $93.5 million through 1H 2019. With record amounts of dry powder, combined with historically low borrowing costs, financial
sponsors are spending more per deal than strategics are for acquisitions—and the hottest deals are often Silicon Valley's VC-backed behemoths.
Across all industries, including those well outside of tech, the pressure on businesses to layer in digital offerings is relentless, driving software M&A ever higher. As a result, consolidation of emerging tech into the hands of the tech giants has hardly depressed overall M&A activity. On the contrary, North American M&A deal value could top $2 trillion for a fifth year running. PE firms alone account for some 40% of all M&A volume so far this year and 39% of all software acquisitions. In short, the playing field for tech companies is wide open. And, for companies, the prospects of going private to avoid public scrutiny can be tempting.
What isn't clear is whether Big Tech scrutiny will translate into protections for consumers that could threaten to disrupt an organic evolution of this thriving M&A market. What would have happened to Instagram otherwise? This counterfactual still fuels much of the push for antitrust measures against Big Tech. Could they have become big enough to supplant Facebook?
Even if the FTC gets its hands on "an evidentiary and economic basis" for ascertaining that an acquired startup could have become a significant competitor—which Bruce Hoffman, director of the FTC's bureau of competition, has said the regulator needs—it still amounts to hefty assertions backed by best guesses. Hoffman is right to be cautious given the consequences a crackdown could have on Big Tech's M&A activity.
Hoffman, per The Wall Street Journal, said capital markets for startups could shrink if the opportunity to be purchased
by a big tech company is constrained. And exits via M&A are as vital as ever to the health of the VC ecosystem, which is
seeing unprecedented levels of investment.
For years, Silicon Valley has thrived with a business model predicated on an economic theory called "network effects."
All that "growth hacking" you may have read about entails the massive expansion of user bases to improve the value of a good or service for all users. One example of that is enabling "freemium" pricing models, which preclude the kinds of consumer harms historically behind antitrust action. That could put regulators in a bit of a pickle, as Facebook and Google are free to search. Amazon has made buying almost anything cheap and easy.
In the end, it's not hard to make the argument that, as consumers, we all benefit immensely from these services.