Things are tight, with the economy running past capacity, so to speak, at a level not seen since the dot-com bubble. Inflation is perking up. And that means interest rates are going to be headed higher, pressuring everything from new car affordability to the cost of credit for riskier businesses—and the discount rate used to price private equity deals. The rise in leveraged loan activity would be jeopardized. So too would the "reach for yield" dynamic that has powered
a flood of money
into private markets as limited partners desperately try to close asset-vs.-liability mismatches.
The importance of this cannot be overstated, as the two-year Treasury yield continues to climb, passing 2.5% on Friday for the first time since 2008.
We also learned on Friday that, for the first time since December 2000, the unemployment rate has fallen below the 4% threshold. Down from a high of 10.0% set in October 2009. A surge of wage inflation looks likely now, with NFIB surveys showing small businesses having an increasingly difficult time finding qualified workers. With the supply of labor tight and demand strong, higher pay is coming.
With the price of not only labor but also raw materials increasing, a growing share of firms is looking to raise end-user prices as well. That's pushed the Federal Reserve's preferred measure of inflation—the personal consumption expenditures excluding food and energy price index, or "Core PCE"—to within a hair of its 2% target.
Headline measures of inflation are being lifted by the rebound in crude oil, which is nearing the $70-a-barrel level. The New York Fed's
Underlying Inflation Gauge
, or UIG, which is designed to more accurately measure inflation by including not only the prices of various goods and services, but also additional macroeconomic and financial variables, is already above 3%—a level not seen since 2006.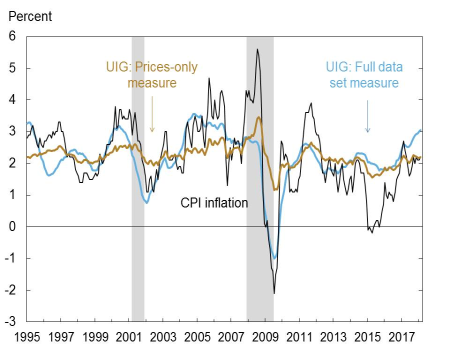 The futures market is bracing.
According to the CME FedWatch Tool, traders assign nearly 43% odds that the Fed will raise interest rates by at least another 0.75% before the end of the year—up from odds of less than 31% in early April. The path of inflation will drive what happens next.
According to the team at Capital Economics, core PCE inflation will near 2.5% by the end of the year, thanks to labor cost growth, the impact of recent weakness in the US dollar (which will bolster import prices) and faster growth of hospital costs. We'll learn more next week when April's producer and consumer price data is released.
The Fed appears to be on its heels. The market's "base case" was for a total of three rate hikes this year—not the four hikes that the futures market believes is increasingly likely. At 1.9%, the core PCE rate in March was exactly in line with where inflation was expected to be at the end of 2018.
And the Fed hasn't been punished for its tepid rate hike pace because wages have remained muted. But if the historic relationship between compensation plans and average hourly earnings remains, that luxury could be short-lived.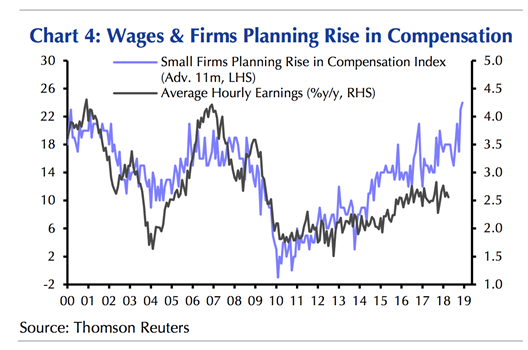 Capital Economics expects the Fed will be forced to signal a more aggressive rate hike path in the coming months, which will add further upward pressure on Treasury bonds yields, with the 10-year yield recently crossing the 3% threshold for the first time since 2014.
Make no mistake: The cost of credit is heading higher.
For now, Fed officials appear in denial. San Francisco Fed President John Williams told CNBC on Friday that he didn't see any rapid inflation on the horizon and that policymakers were comfortable with inflation overshooting their 2% target. This echoed the Fed's policy statement from last week, which stated its 2% inflation target was "symmetric"—meaning a period of hotter-than-desired inflation would be tolerated.
Related read: 'Reach for yield' dynamic driving private capital deluge