Fund Performance
Eight years in the black for private equity cash flows
September 13, 2019
Between 2017 and 2018, LPs were on the receiving end of nearly $1 trillion in global private equity returns, according to PitchBook's latest
Global Fund Performance Report
. Distributions came in at $480 billion last year, just off the record set in 2017 of $488.4 billion. Net cash flows topped $150 billion for a second straight year, but aside from a soft 2016, net cash flows have been north of that figure going back to 2014.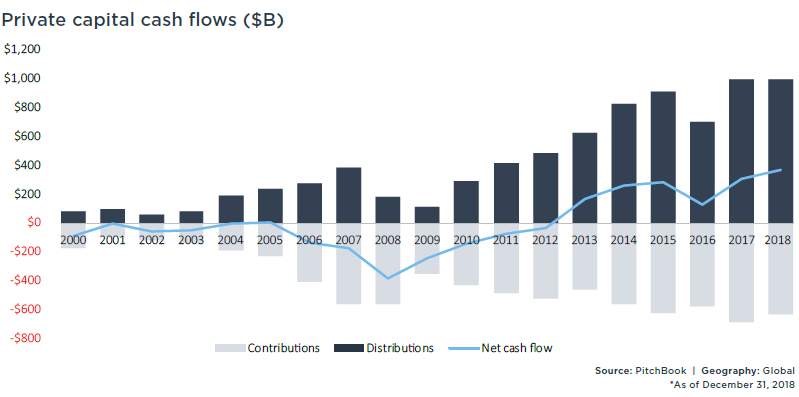 The big difference today is that more money is changing hands between GPs and LPs, thanks to the harvesting of crisis-era deals as well as the ongoing fundraising success of the PE industry. The latter is reflected in the contributions column, which breached $300 billion for only the second time ever in 2018. Naturally, 2017 was the first.
Taken together, 2017 and 2018 help visualize how inundated LPs have been over the past few years. The magnitude of distributions has helped fuel today's fundraising market—in many cases it reflects LP efforts to keep their target allocations intact amid rising public equity markets.
PE valuations behave differently than public market valuations, which change every day, whereas private markups lag each quarter. If a stock market correction happens in the next year or two, we'll once again hear about a problematic reverse denominator effect facing LPs, and potentially another bump in GP stake sales as a way of rebalancing portfolios.
Featured image via cgtoolbox/iStock/Getty Images Plus
This column originally appeared in The Lead Left.
Read more about PE fundraising in our latest Global Fund Performance Report