Politics
Elizabeth Warren proposes legislation to rein in private equity 'vampires'
July 18, 2019
View comments

(6)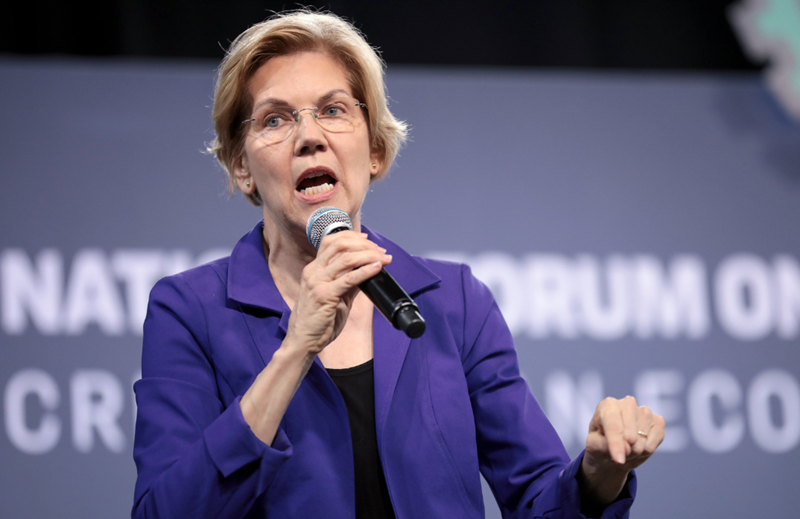 Just days after Vermont Sen. Bernie Sanders railed against the private equity industry at a rally in Philadelphia, fellow Democratic presidential hopeful Elizabeth Warren has introduced a bill to regulate the once relatively unknown asset class.
Dubbed "The Stop Wall Street Looting Act," Warren's proposal would rein in what the senator feels are the most rapacious actors in the leveraged buyout world, establish a new Glass-Steagall Act to separate commercial and retail banks, and reverse the Trump-era loosening of regulations on big banks, among other initiatives.
"Private equity firms raise money from investors, kick in a little of their own, and then borrow tons more to buy other companies," the Massachusetts senator wrote. "Sometimes the companies do well. But far too often, the private equity firms are like vampires — bleeding the company dry and walking away enriched even as the company succumbs."
A self-professed capitalist, Warren outlined her proposed legislation in a blog post on Medium:
• Putting private equity firms on the hook for the debts of companies they buy, making them responsible for the downside of their investments so that they only make money if the companies they control flourish.

• Holding private equity firms responsible for certain pension obligations of the companies they buy, so that workers have a better shot of getting the retirement funds they earned.

• Eliminating the ability of private equity firms to pay themselves huge monitoring fees and limiting their ability to pay out dividends to line their own pockets.

• Changing the tax rules so that private equity firms don't get sweetheart tax rates on all the debt they put on the companies they buy.

• Modifying bankruptcy rules so that when companies go bust, workers have a better shot at getting pay and benefits and executives can't pocket special bonuses.

• Preventing lenders and investment managers from making reckless loans to private equity-owned companies already swimming in debt and then passing along the danger to the market by requiring them to retain some of the risk.

• Empowering investors like pension funds with better information about the performance and effects of private equity investments and preventing private equity funds from requiring investors to waive their fiduciary obligations.

• Closing the carried interest loophole that lets firm managers pay ultra-low tax rates on the money they loot.
Warren said she expected the proposal to receive blowback from the financial world, and she wasn't wrong.
The American Investment Council, a Washington, DC-based lobbying group for the private equity industry, responded with a press release titled "AIC Issues Statement on Warren's Harmful Economic Proposal."
"Private equity is an engine for American growth and innovation—especially in Warren's home state of Massachusetts. Extreme political plans only hurt workers, investment and out economy," the group wrote.
The US Chamber of Commerce wasn't pleased, either.
"Senator Warren's financial service plan to limit private equity firms is another brick in the wall to stop growth, job creation and creating return for retirement," Tom Quaadman, the Chamber's executive VP of the Center for Capital Markets Competitiveness, said in a statement. "What the US needs are policies to promote a growing dynamic economy, and Senator Warren's plan fails to meet that test."
In her blog post, Warren pointed to the retail and newspaper industries as examples of private equity "looting." She included the story of Shopko, a Wisconsin-based department store chain that filed for bankruptcy this year after Sun Capital Partners extracted millions in dividends and its own sale-leaseback program. And she mentioned The Denver Post, which has had its staff decimated under the direction of Digital First Media, a media company backed by Alden Global Capital.
"Let's call this what it is: legalized looting — looting that makes a handful of Wall Street managers very rich while costing thousands of people their jobs, putting valuable companies out of business, and hurting communities across the country," Warren wrote.
Her bill includes specific provisions
, such as restricting private equity firms from carrying out a capital distribution in the 24 months after a leveraged buyout. It would also hold firms liable for debt incurred on a company, including legal judgments and pension obligations.
The proposal would also apply a 100% tax on fees paid by target firms to private fund managers, essentially ending transfer or monitoring fees. It would also eliminate a law that makes interest payments for PE portfolio companies tax deductible and eliminate the carried interest loophole, which allows portfolio managers to report their fund profits as capital gains.
Warren was joined by other Democratic lawmakers in introducing the bill, including Senator Tammy Baldwin of Wisconsin and Senator Sherrod Brown of Ohio. While the proposal could potentially pass the Democrat-controlled US House of Representatives, it would face significant opposition in the Republican-controlled US Senate.
Regardless, with Warren's rising profile as a presidential candidate, there will likely be more talk of private equity regulation in the coming months.
Related read: Bernie Sanders slams PE over expected hospital closing