Cerberus Capital Management has reportedly hired Rothschild to advise on the flotation of Austrian lender BAWAG, which Cerberus has backed since 2006. The listing could value the bank at as much as €5 billion.
Meanwhile, tyre-maker Pirelli is set to float between 30% and 40% of its shares in a public offering as early as September, per Reuters, with majority owner ChemChina potentially reducing its stake to below 50%. In April, Pirelli announced a refinancing agreement that included a €1.25 billion loan in preparation for a possible IPO.
These announcements—as well as the recent large-scale listings of companies such as
Alfa Financial in the UK
and Delivery Hero in Germany—underscore Europe's relative resilience to a recent global decline in IPO frequency. While the number of total public offerings
declined nearly 48% worldwide
from 2014 to 2016, per the PitchBook Platform, that figure
dropped by only 24%
in Europe over the same span. This year has brought a resurgence in all geographies: European IPOs are on pace to just about equal last year's figures after consecutive annual declines, while 2017 is actually on pace to exceed 2016 in IPO frequency when considering all geographies.
Those trends have led to Europe claiming a larger share of the global IPO market. Last year, the region surpassed the US as the most common place for flotations, and it's on track to maintain that difference in 2017:
Share of IPO count (%)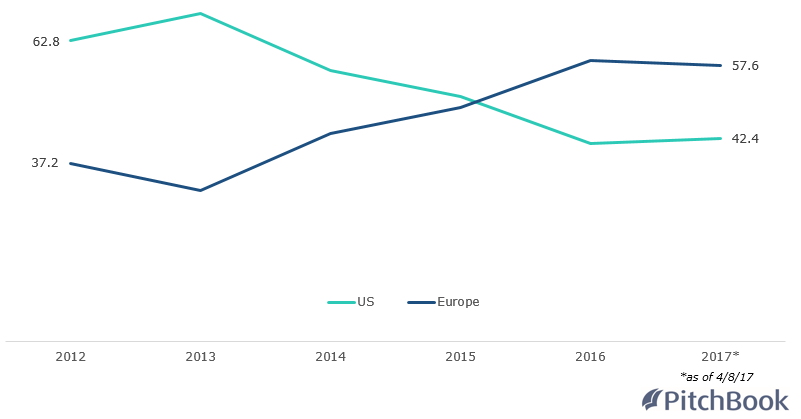 Several other notable European companies are in the pipeline and could go public before long. Rocket Internet is widely believed to have used
Delivery Hero's listing as a test balloon
and is now reportedly considering the flotation of portfolio companies Hello Fresh and Home24. And last week, Siemens confirmed plans to list health business Healthineers sometime during 2018, which is reportedly valued at as much as €40 billion—although early indications are that Healthineers may debut on the NYSE rather than in Europe.
PitchBook Platform users can check out the full data on European IPOs.