Private equity in Europe delivered another strong year in 2017 in terms of both dealmaking and money spent, continuing a trend of total value breaching €300 billion and volume breaking 3,000. By comparison, US figures for both
dropped slightly
.
This does not tell the full story, however, with several facets from fundraising to quarterly counts raising questions about the future direction of deals. Our 2017 Annual European PE Breakdown digs into these trends and more, providing a primer for the coming year. The
full report
is available to download for free, but for a quick look, check out 10 key charts below from our report which set the scene for private equity in Europe.
One way and the other
Unlike in the US, Europe saw a divergence in the direction of PE deal volume and value trends, with the amount spent rising 14% while the transaction numbers dropped 11%. It continues a similar pattern reflected in European VC, mirroring an appetite for larger cheques and funds.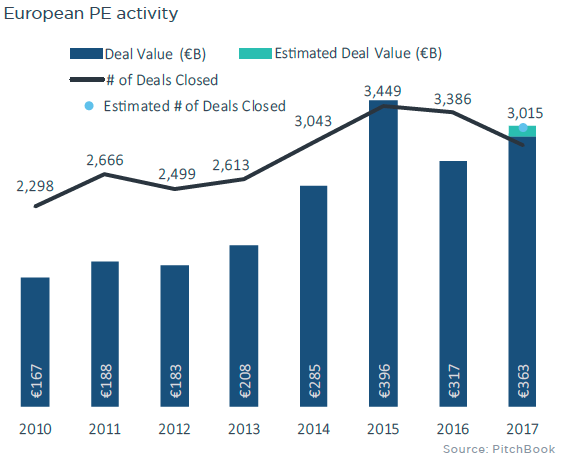 The multiplier effect
The increasing presence of debt in M&A deals—including buyouts—helped to push the median valuation up for the fourth consecutive year, reaching 7.6x earnings. While the rise of private debt funds in Europe has been noted, it should not be considered the main factor—particularly with low interest rates pushing levels of corporate borrowing, even at higher yields, up and up.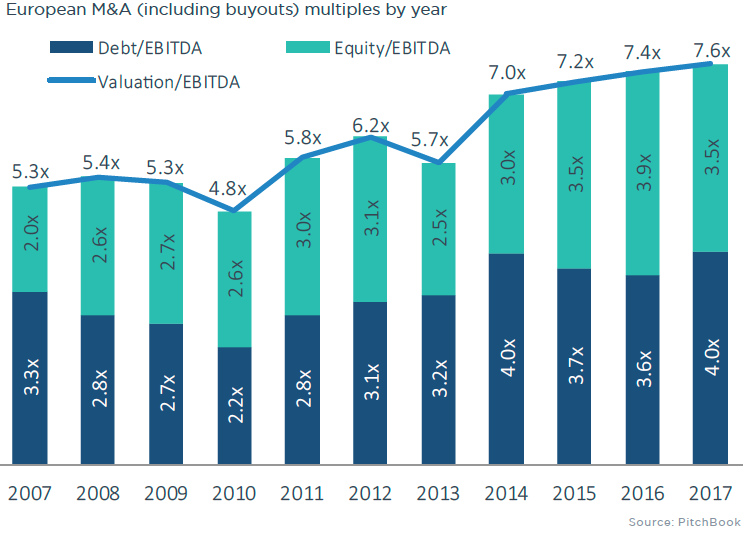 Bigger buyouts
European PE deal sizes ascended to €38.5 million last year, their highest level since 2006 and a nearly 70% jump on 2016's figure. This helps to understand the value jump overall for PE on the continent, with investors happy to spend more on fewer transactions.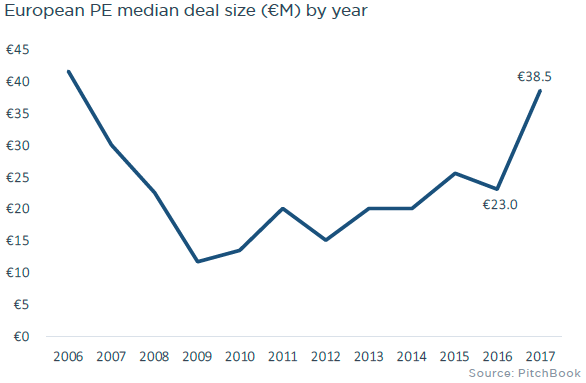 This coming fall...
The drop in PE deal numbers in 2017 could be set to continue this year if the trend, which saw consecutive declines in each of last year's quarters, prevails As sizes continue to rise, observers will be keen to see just how concentrated—and how big—PE is willing to make its investments, should the decline continue and the rise in value increase further.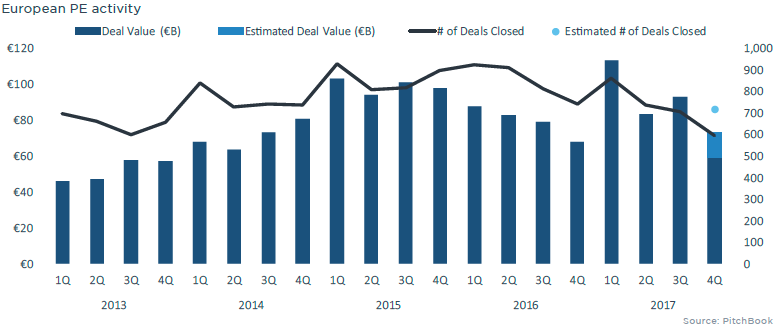 Money from the outside
Non-European investors are continuing to spend more in Europe, with €150 billion from foreign PE firms being splashed out on targets on the continent. Whether this is the sign of a wider trend of more money from more places, or just a consequence of large investors such as Carlyle, Bain and KKR investing out of their Europe-specific funds, remains to be seen.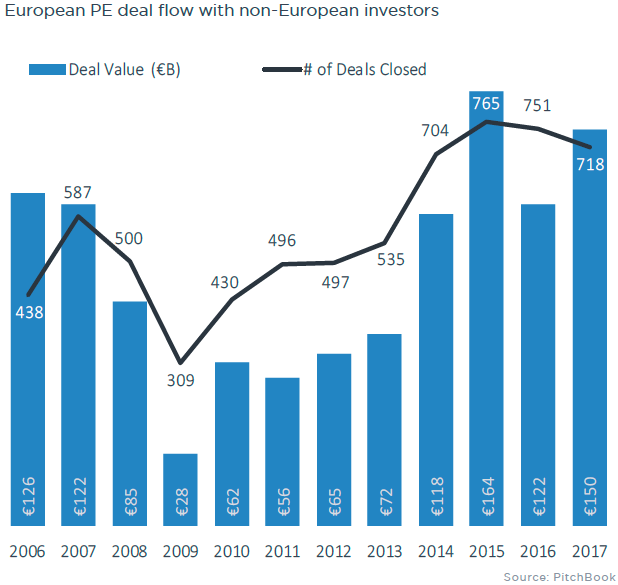 Return of the mega-buyout
The value increase was driven by a notable rise in the proportion of European PE deals worth €2.5 billion or more, with takeovers over that size equating to 19% of all deals—some €67.3 billion. By contrast, the figures last year were 10% and €32.7 billion respectively.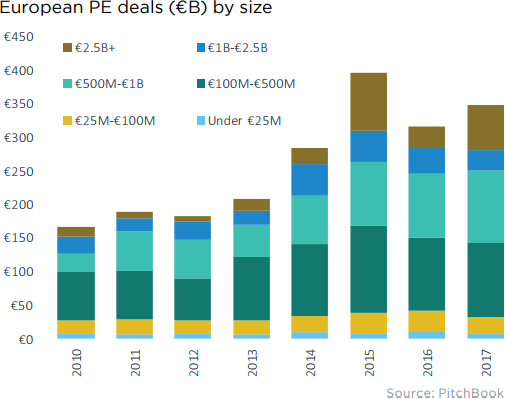 Exits buoyant
Although declining, PE exits in Europe registered their fifth consecutive year above 1,000, while value increased YoY to €175 billion. Despite the fall in value, it is still the second-highest year for European exits since 2007.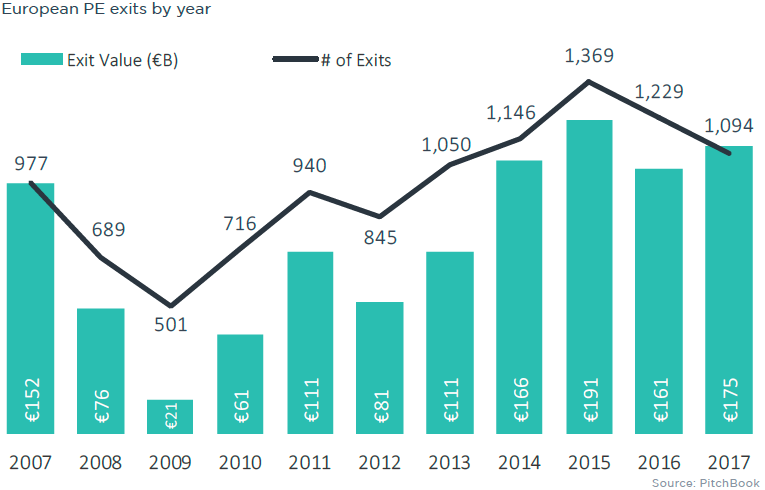 SBOs thrive, trade sales dive
Private investors were eager to spend their preserved dry powder in 2017, as SBO value increased to represent around a half of all PE sales—some €88.1 billion and higher than any other year on record. By contrast, corporate acquisitions of PE-owned entities have fallen to their lowest levels since 2012.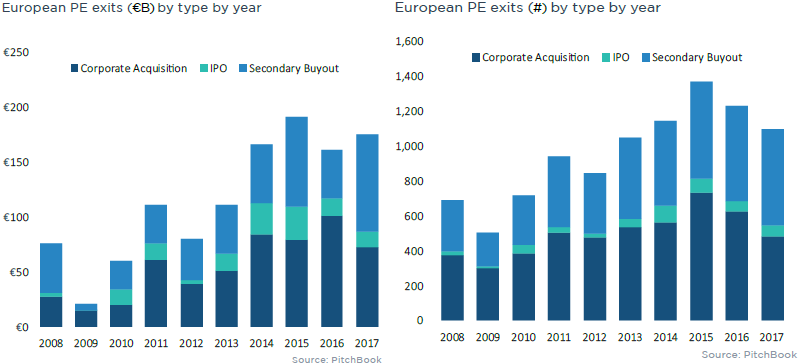 Fundraising feast
The strong trend of increased capital commitments continued, despite a slight year-on-year dip to €67.3 billion in total value. At the moment, PE fundraising in Europe is at its second-highest level since the financial crisis.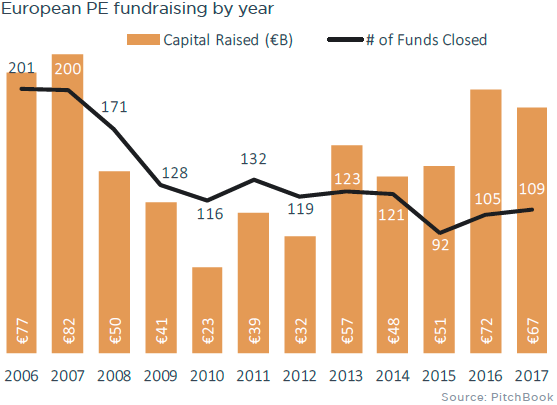 Looking for more details? Check out the full PitchBook 2017 Annual European PE Breakdown.