A topic that has become increasingly prevalent of late: the maturation of the buyout industry and what that entails for its future. Originally a very opaque and non-populous market, information flows and number of participants in the industry have increased its efficiency marginally, although significant market inefficiencies remain.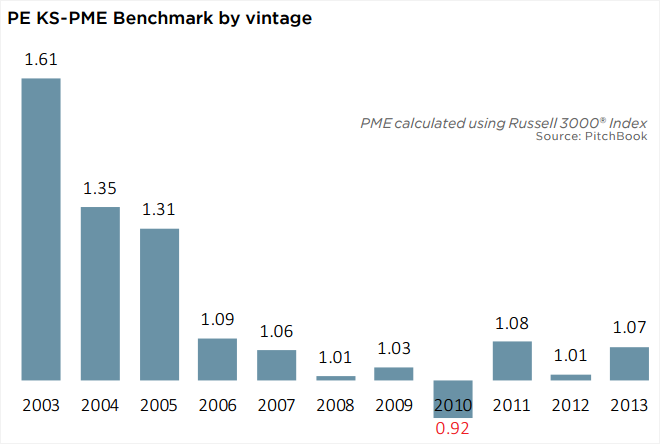 Even if we consider the effects of increased competition on their own terms, they explain in large part the trend observed in charting Kaplan-Schoar PME benchmarks by PE fund vintage. (Reminder: KS-PME values exceeding 1.0 indicate outperformance relative to comparable public market indices.) It's clear that the eldest vintages in our dataset distinctly outperformed public markets, benefiting from the considerable time elapsed since their liquidation periods closed—in all likelihood—as well as fewer participants.
However, since then we've observed a much thinner margin of outperformance. Part of that is due to macro conditions—as stock markets have been on a historic run—while it's at least possible if not probable that some vintages are still realizing value at a lagging rate due to the recession. Regardless, the continued thinness in spread speaks to how much more difficult it has been for PE fund managers to achieve outsized outcomes given how much competition for private assets there has been.
The universe of private enterprises hasn't necessarily shrunk in absolute terms; it's just that the penetration by PE funds has grown to such an extent most transactions are now competitive auctions, as opposed to proprietary deals. Consequent elevated prices and heftier equity contributions have dampened returns in aggregate, although outliers still exist. These occurrences are par for the course when it comes to a maturing market.
What matters for current PE participants is whether this is truly the new normal or whether, depending on the state of the business cycle, increases in outperformance are possible in the future once more. Given the mammoth hoard of dry powder amassed by PE managers, there are interesting dynamics in play that foreshadow future developments.
Note: This column was previously published in The Lead Left.
For more data and analysis on PE fund performance, be sure to download our latest Benchmarking Report!