LPs
Fees and relationships trump performance when it comes to LP preferences
December 21, 2018
Do they know you, and how much do you cost?
Those are the two most important factors for LPs considering GP commitments, according to our
2018 Annual Institutional Investors Survey
. For the study, we reached out to more than 50 LPs throughout the world, including those at sovereign wealth funds, public pensions and family offices. The results were somewhat surprising—here's a look at the rankings: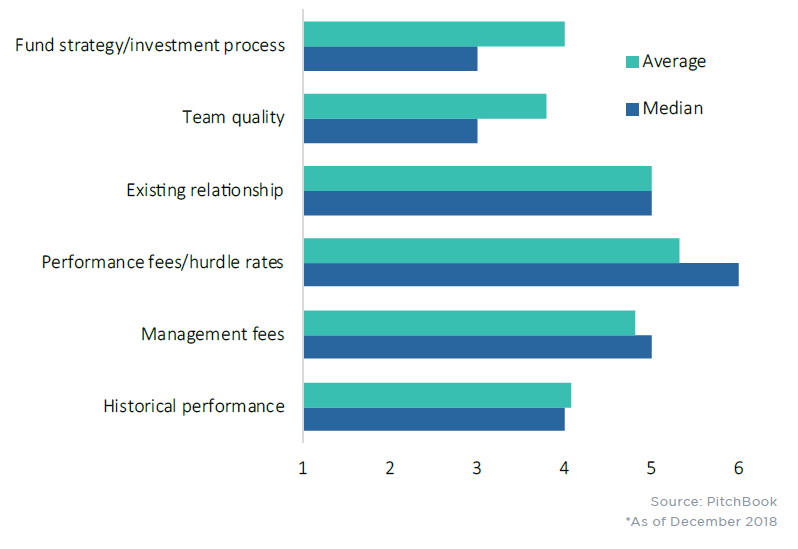 Past performance is relatively low on the list of priorities. We can take that at face value, though like public opinion polls, surveys can often hide the true feelings of respondents. It wouldn't be surprising if LPs rate past performance higher behind closed doors, since there are few ways to gauge potential future performance based on glossy marketing materials.
Speaking of which, our survey also indicated that those marketing materials are relatively unimportant for prospective investors. Most firms make a point to highlight their culture and their differentiated investment processes. But those two selling points are so pervasive in the fundraising market that LPs likely discount them because they've heard the same pitches from everyone else. Can you blame them?
Costs are a different matter. Both management and performance fees were among the highest considerations. Management fees often set the table for those discussions, and discerning LPs can leverage themselves by focusing on fee structure. When respondents were asked if they would opt to pay lower management fees in exchange for higher carry or vice versa, 87% chose the former option. Higher returns carry the day, in whatever form they come.
The focus on fees sheds light on falling confidence in future returns. Over the last year, about 30% of respondents have lowered their return expectations across a number of private market strategies, including buyout, growth and real assets, while fewer than 15% have raised their expectations. The takeaway? GPs facing skeptical LPs should take fee considerations to heart.
This column originally appeared in The Lead Left.
See what else respondents had to say in our 2018 Annual Institutional Investors Survey.