Fiat Chrysler has agreed to join an existing alliance between
BMW
and Intel designed to accelerate the companies' joint development of autonomous cars. The news comes mere days after the US automaker reportedly rejected at least one takeover bid from an undisclosed Chinese competitor.
The rate of change in the car industry is breathtaking, as technological developments are forcing the hand of traditional automakers. This is reflected in the sector's dealmaking activity. M&A in the automotive industry
peaked at 283 takeovers
last year, per the PitchBook Platform, and while only 133 deals have been completed so far in 2017, capital invested has already outstripped 2016's total.
Completed M&A in the automotive industry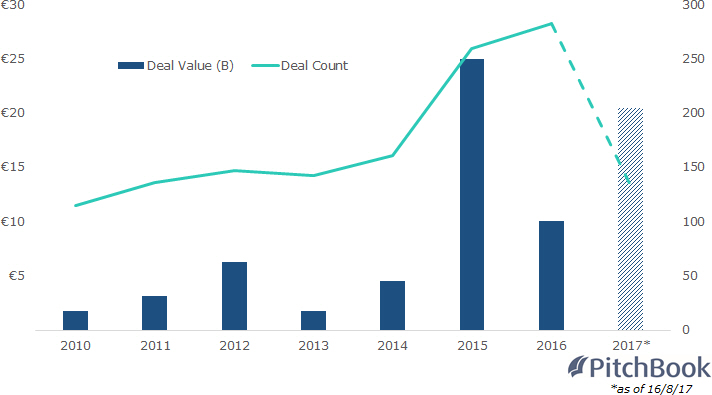 Most of that value spike is wrapped up in Intel's $15.3 billion takeover of Israel's
Mobileye
, a creator of computer vision technology, in a deal completed last week.
Intel
, BMW and now Fiat Chrysler will deploy the company's software to back their drive to develop self-driving cars.
That deal also highlights a shift in the auto industry's focus away from engine manufacturers and other petrol-powered companies and towards bringing autonomy to vehicles. The same trend exists in earlier-stage investments, as the number of VC deals in automotive startups
has exploded over the past decade
, with many of those dollars going to companies working on self-driving tech.
ClearMotion
,
Drive.ai
and O
ryx Vision
are among the startups in the field to raise significant rounds so far in 2017.
Yet most of these up-and-comers can't transform the road alone—they need infrastructure of traditional manufacturers to actually build the vehicles.
This could mean more consolidation is on the way. Already this year, GM sold its Vauxhall and Opel subsidiary to PSA Group, a French company which recently launched its own autonomous driving program. Japanese motor manufacturer
Nidec
, meanwhile, agreed to take over Emerson Electric's motors, drives and electric power generation businesses in order to aid its push into motion control, vehicle guidance and robotics.
Check out more of our autonomous vehicle coverage.