Private Debt
Following a decade-long uptick, direct lending continues to rise
February 11, 2020
View comment

(1)
The boom in direct debt lending has directly coincided with the private equity boom over the last decade. No surprise there—ten years ago marked the global financial crisis and its aftermath, when traditional lines of credit from Wall Street suddenly dried up. Direct lenders, with fewer regulatory burdens, swooped in and never left.
Today, direct lending accounts for over half of all private debt fundraising, according to PitchBook's
H2 2019 Global Private Debt Report
. As a sub-strategy, direct lending funds raised $71.6 billion in 2019, amounting to 57% of all private debt fundraising. That record-breaking figure was raised across just 32 direct lending vehicles—the lowest fund count since 2012. Average fund sizes have grown much larger over the last three years, with direct lenders amassing $185.7 billion since 2017, and annual fund count continues to decrease.
Some direct lenders depend entirely on PE sponsors for deal flow. That spurs concerns that lenders will be too lenient on deal opportunities, with bad deals being financed to avoid burning bridges with PEGs and future lending opportunities.
A separate concern is the surplus of dry powder. Private debt as an asset class topped $241 billion of dry powder last year, according to PitchBook data, and will likely keep increasing as time goes on.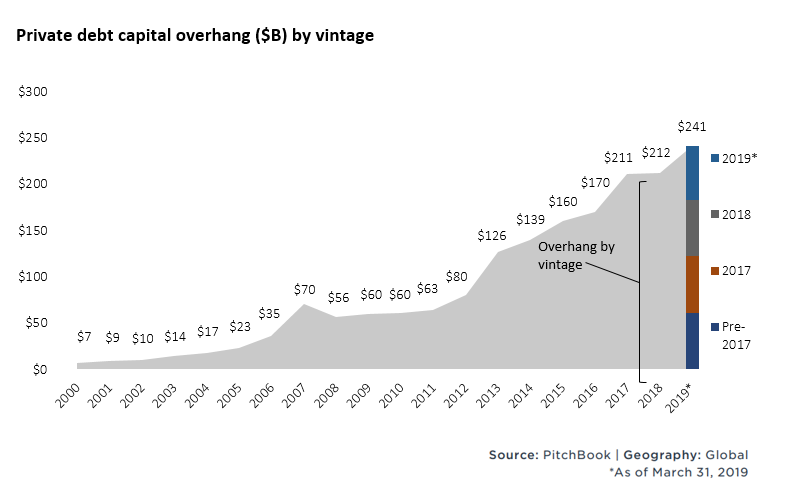 However, when we divide today's dry powder levels by the three-year rolling average of capital calls to private debt funds, those concerns don't look as dire. In fact, at today's lending pace, private debt funds have a modest 2.4 years worth of dry powder on hand, with similar numbers dating back to 2013.
Managers generally don't appear to be struggling to put capital to work. They at least don't look as desperate as some suspect.
This column originally appeared in The Lead Left.
Featured image via Winslow Productions/Getty Images
Read more about private debt in our H2 2019 Global Private Debt Report.
Join the more than 1.5 million industry professionals who get our daily newsletter!