In many ways, founders are the soul of a company. That's one of the reasons why many investors prefer working with companies led by the founder rather than a professional CEO. It's also why some companies bring founders back during times of trouble.
The skills needed to build a company, however, are vastly different from running a business. And with private companies remaining private longer, investors may find themselves battling whether or not to keep their founders in power and help them develop into a CEO, or bring in a professional CEO to lead the company to exit.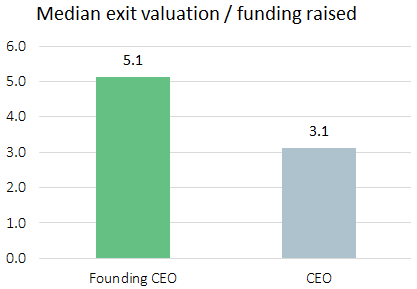 Using the PitchBook Platform, we analyzed exits for companies led by founders against those led by professional CEOs.
We found that professional CEOs bring startups to a higher median exit valuation than founders. That said, when median exit valuations take into account the total funding raised, founders come out on top. Securing just $7 million at the median prior to exit, founders are able to maneuver their company to an exit valuation to funding-raised ratio of 5.1x—compared to the 3.1x achieved by CEOs.

According to PitchBook's exit data, founders bring their company to exit in nearly half the time that professional CEOs do, achieving a median time-to-exit of just 3.4 years after the company receives its first round of institutional funding.

It's for these reasons and more that firms like Andreessen Horowitz have kept "founding CEO" as a major directive in their investment thesis—a credit to the large number of successful companies that are or were run by their founders, including Apple's Steve Jobs, Microsoft's Bill Gates, Salesforce's Marc Benioff and Facebook's Mark Zuckerberg.