PE Fundraising
Global PE cashflows eye eighth consecutive year in the black
June 21, 2019
Global private equity net cashflows are on pace for an eighth consecutive year in positive territory. Through 3Q 2018 (the most recent data available), net cashflows (the difference between contributions and distributions) remained just above $100 billion, per our recent
Global Fund Performance Report
.
There's one more quarter's worth of data to sift through, but the tea leaves bode well—exits were strong in 4Q, which should be more than enough to keep net cashflows safely in the black.
PE fund cashflows ($B)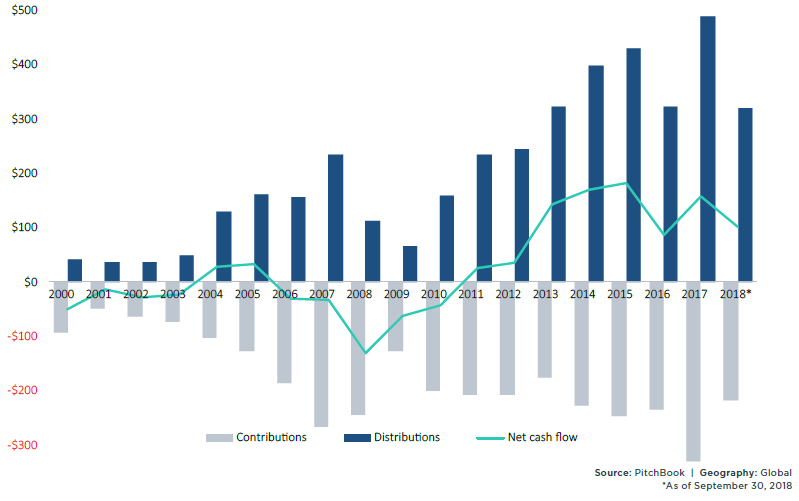 It's been a great run so far. Since 2011, LPs as a whole have had more money coming in than going out, which has been a tailwind for fundraising. Net cashflows peaked in 2015 at $180 billion, and after an $85 billion year in 2016, they bounced back up to nearly $157 billion in 2017, per PitchBook data. The trend looks like it may be something of a downshift, though, and eventually net cashflows will likely fall back into negative territory.
Meanwhile, several PE-related asset classes have their own positive streaks still intact, including secondaries (positive since 2013) and funds-of-funds (since 2012). PE distributions are coming off a record 2017, which saw almost $490 billion recycled back to LPs in a single year. That was only the second $400 billion-plus performance in the industry's history, but 2018 numbers are on pace to do it again.
That's good news for near-term fundraising. Expect contributions (i.e., capital calls) to grow commensurately due to a surfeit of dry powder floating around in the market.
Featured image via whyframestudio/iStock/Getty Images Plus
This column originally appeared in The Lead Left.
Read more about cashflows in our recent Global Fund Performance Report.