PE Fundraising
Have public PE firms always been busier when it comes to fundraising?
May 31, 2019
Flagship funds of public PE firms in the US are now bigger than they were pre-crisis, while the same (mostly) can't be said for private firms. The cynic might point out the obvious, that public firms are incentivized to raise more money because higher management fees help their stock prices. That's true, but it's still notable considering how many private firms have yet to reach their pre-crisis heights.
Another cynical take on public firms is that they raise not just bigger funds, but
more
funds—for largely the same reason. One interesting tidbit from our
recent analyst note
, however, is that today's now-public firms were actually diversifying decades before their public debuts. The "more strategies" strategy has been in their DNA for awhile.
Starting in the late 1990s, the US-based firms that would eventually go public had, on average, 2.5 unique fund strategies to their name, compared to only 1.5 for the private cohort. By 2001-2005, when the PE market really got rolling, the firms that eventually went public had an average of 4.3 strategies, while the four private firms stayed put at 1.5. At the fever pitch of 2006-2008, the difference swelled 6.3 to 2.3, while today's gap is even starker at 8.0 to 2.3.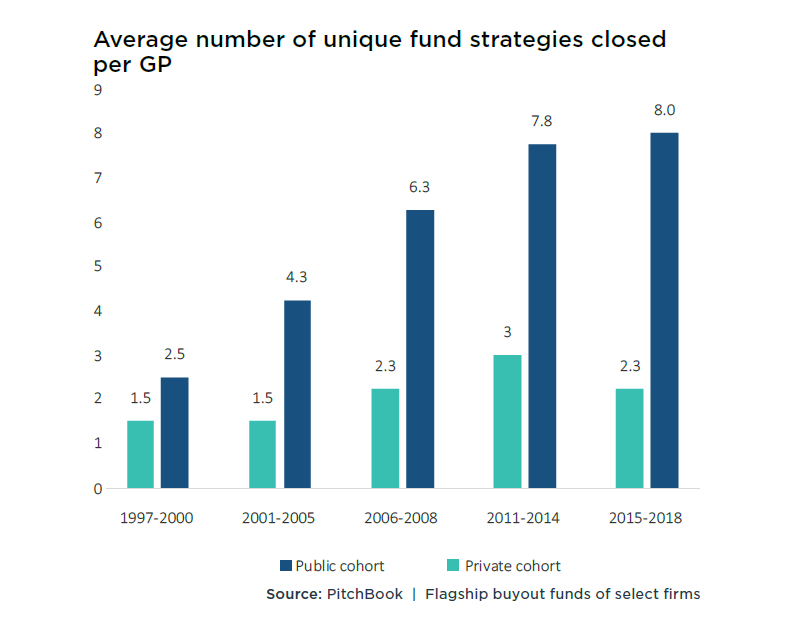 Firms like
Blackstone
and
KKR
are getting closer to becoming asset managers rather than mere buyout shops. None of which is to say that fund diversification is the gold standard, and other firms are somehow less worthwhile because they only do bread-and-butter buyouts. In fact, it's just the opposite sometimes: Many LPs value focused strategies, as long as they can get into one of them.
Featured image via Easyturn/iStock/Getty Images Plus
This column originally appeared in The Lead Left.
Read more about public vs. private PE firm flagship funds in our recent analyst note