Walmart recently announced an agreement to acquire discount retailer Jet.com for $3 billion in cash, along with $300 million of Walmart shares that will be paid out over time. This mega-deal marks a notably quick turnaround for Jet since its founding in 2014 and launch just over a year ago. The company raised about $570 million in venture funding, most recently securing a $350 million investment last November at a valuation of $1.4 billion.
Although a corporate acquisition likely isn't the outcome that Jet founder Marc Lore originally had in mind, as the company was once touted as having the potential to be a serious Amazon competitor, it will undoubtedly satisfy investors. New Enterprise Associates emerges as a big winner after leading Jet's initial round in 2014, which valued the startup at roughly $150 million. Below we've included a breakdown of the multiple on invested capital (MOIC) that investors in the company's key rounds will see, as well as a sample of VCs that participated in each funding.
To get the full list of investors in each round, contact us today to get started with the PitchBook Platform.
Multiple on invested capital (MOIC) per round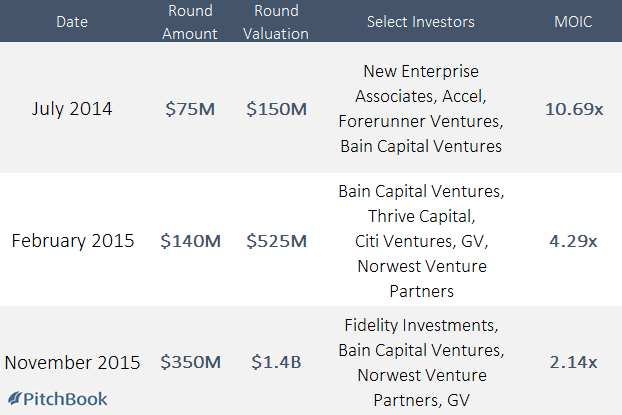 Join the more than 1.5 million industry professionals who get our daily newsletter!