How big should an employee option pool be for a startup? How does this change over the course of a startup's life? These are two very common and critical questions faced by founders, VCs and startup employees. And while there's an abundance of opinions and anecdotal literature on the topic and the different elements of option pools (dilution, effect on valuation, terms, etc.), very little is data driven.
Until now.
J. Thelander Consulting has for a first time shared its option pool data for publishing—information collected as part of its annual survey of option pool information from startups. Below is a look at the results from the 2015 survey (administered Q4 2015), featuring data from just over 200 companies.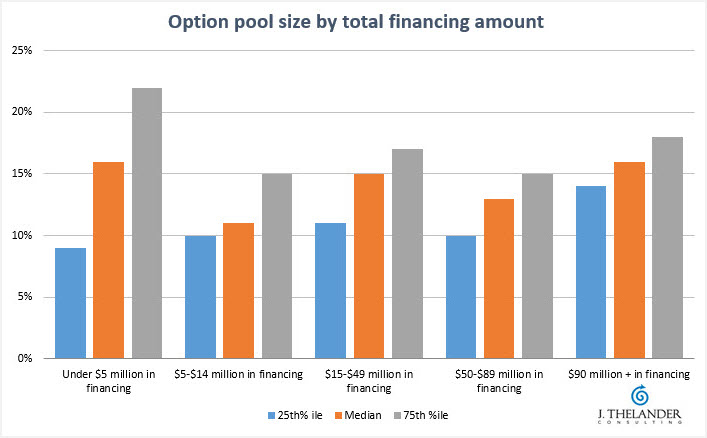 The results show a minimal level of variation in median option pool size based on financing, highlighting that in general, private companies need to continue to refresh the option pool to accommodate both new hires and dilution. The key takeaway in the data is really the consistent spread across the population of between 10% and 18%, a range that has been worked out over the years between companies, investors and employees. It's important for companies to make sure they have a properly sized option pool so that they can attract, retain and incent talent in today's highly competitive market.
CLICK HERE to help us further build out this data set by participating in the Thelander 2016 Year End Merit Increase & Option Pool Survey. Participants will receive the complete report for no charge.