Compensation
How CEO compensation and equity breaks down by gender, total VC raised
December 11, 2019
When evaluating compensation, the manner in which you filter the data can change the story significantly.
To spotlight how that applies to CEOs at venture-backed companies, we partnered with compensation data firm J.Thelander Consulting to break down the data by gender, the amount of capital the company has raised, and whether or not the CEO founded the company.
Median total cash for venture-backed CEOs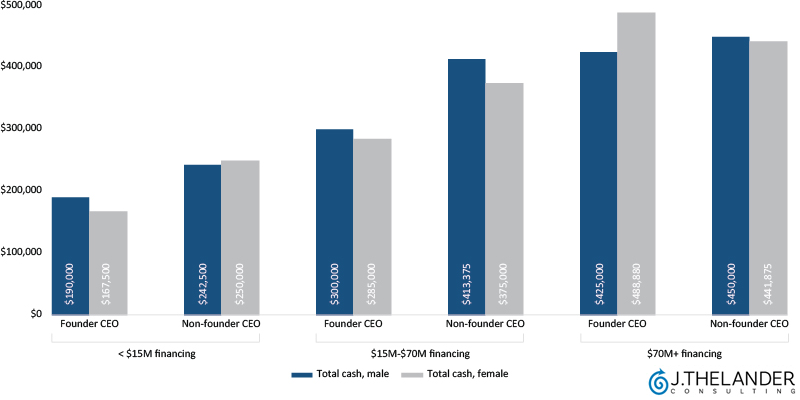 Median equity for venture-backed CEOs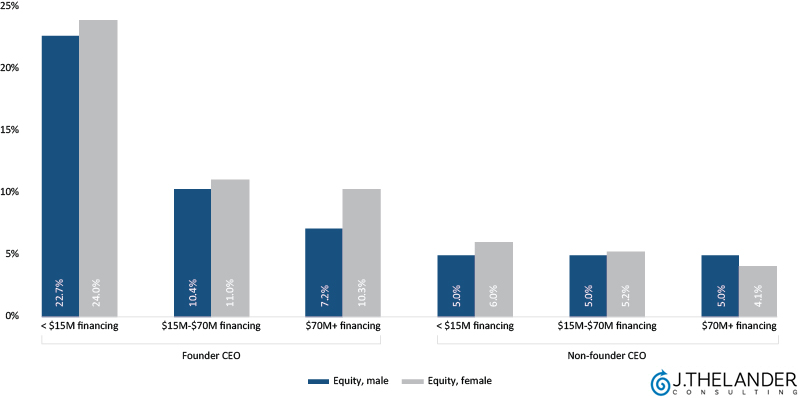 Some notable trends and takeaways emerged:
While understandably lower than those of founder CEOs, equity levels for non-founder CEOs remain fairly stable even as total cash compensation increases in later stages.

Non-founder CEOs are often making up for the lack of equity in higher total cash, at least in the early to mid stages.

The gap between founders and non-founders (in both cash and equity) lessens in late-stage companies.

Early-stage founder CEOs trend low in total cash, especially women.

Total cash for all CEOs increases with financing, while founder equity dilutes.

Note: There's a significant gap between the male and female data points from our survey. The data was leanest for female CEOs at the mid and late stage, which could partly explain potential outliers in late-stage founder total cash and late-stage founder equity. Overall, the trends generally showed women making less in total cash and just slightly more in equity.

For more content related to private company compensation, and additional content on investment firm compensation, check out our other articles published with Thelander. You can also contact J.Thelander Consulting directly.
Featured image via vladwel/iStock/Getty Images Plus