As private equity fundraising continues to surge toward levels not seen since the run-up to the 2008 recession, lower-middle-market investors are facing frothy multiples that favor buyout shops with massive amounts of capital.
One clear impact: Both frequency and capital invested for PE deals in the US lower middle market are on the decline. Investors conducted 762 lower-middle-market deals in 2017 worth about $21.8 billion, per PitchBook data, representing YoY drops of 19% and 23%, respectively.
That marked the fewest deals in the LMM since 2013 and the smallest dollar figure since 2011, as you can see in this chart of PE activity in the US lower middle market since 2008: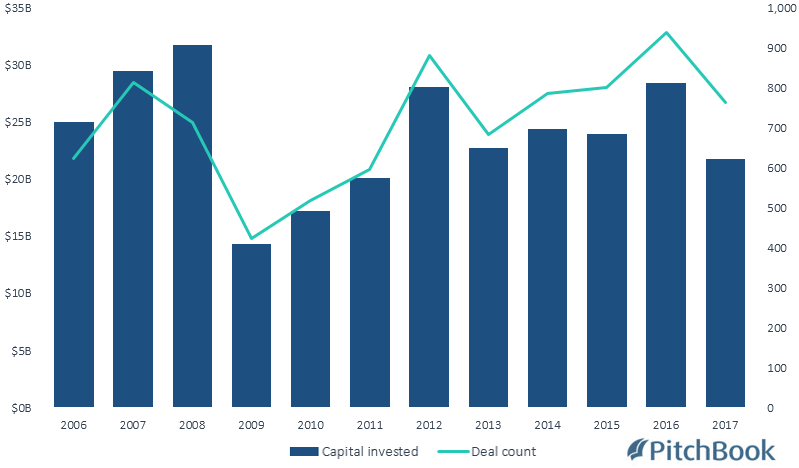 But some lower-middle-market buyout shops are still finding ways to thrive. Take Transom Capital Group, for instance. Earlier this month, the Los Angeles-based buyout shop announced the close of its third fund on $300 million, easily surpassing a predecessor that brought in $133 million in June 2016. The new fund is Transom's second time bringing in institutional investors, according to managing partner Ty Schultz .
Rather than increasing deal size to meet the higher prices in the LMM, Transom plans to simply make more deals, aiming to invest in struggling companies that may not attract other firms.
"I think we see plenty of opportunities for us to deploy our capital, and that was a big driver in being able to raise more," Schultz told PitchBook. "We've done a bunch of deals in the last year at really attractive multiples, but the reason why is they require some TLC to get to where they would have lots of buyers. There are limited buyers for the deals we're looking at.
"In fact, I'd say that for deals we're really excited about, there are very few, if any, true competitors."
Since Transom often invests in smaller business (EBITDA of $20 million or less), the firm pursues targets capable of "transformational swings" that could generate a major return on investment, according to Schultz. In other words, the opportunity for slight improvements at the margins of a business isn't enough.
"The returns in the lower middle market are better than the returns where it's more competitive and there's more capital chasing. There's no question," Schultz said. "I can tell you that as a (former) McKinsey consultant working for Fortune 500 companies, a tenth of a market point is a really big deal and it means a whole lot of dollars. We don't chase tenths of margins at Transom."
Finding a niche can be especially important in the lower middle market. For Transom, that means marketing itself as a firm of blue-collar finance guys that take an operational approach, often partnering with management teams to restructure businesses. For Schultz, who got his start by turning around his family's cattle ranch in Meeker, Colorado, that approach comes naturally.
"I think the Harvard background, the MBA and all those type of things actually hinder you when you're talking to [businesses]," Schultz said. "It doesn't impress them. That's what people expect."
Check out PitchBook's 2017 US PE Breakdown for more industry info.