Recent changes to the US corporate tax rate are a mixed bag for private equity. Reducing the top-line rate from 35% to 21% affects PE at both the fund and portfolio company levels, as both are structured as corporate entities in the first place. For portfolio companies in particular, that should lead to a climb in free cashflows in tandem with reduced tax payments. Higher cashflows will likely also translate into higher enterprise values in the market—as if the PE industry needed any help keeping valuations high. How big an impact this will have on aggregate valuation data is hard to say, but we may see an uptick or two in the coming quarters. On the other hand, PE investors will want to pay those valuations using less debt, since the new law also capped interest deductibility at 30% of EBITDA. Net tax payments will go up for portfolio companies shouldering more than 6-7x of debt obligations. As such, we could see more equity put to use in the coming years.
Carried interest legislation, which has been debated for years, changed relatively little. The long-term capital gains rate still applies, but the required hold time now stretches to three years minimum. A relatively small percentage of PE investments are held for less than that. Indeed, less than 17% of exits in the US would be affected so far this year, per our
recent analyst note
, and the number of quick exits has gone down quite a bit over the years. That said, exit opportunities have been known to materialize more quickly than expected, especially from strategic buyers. GPs remain beholden to their fiduciary obligations to LPs, but we expect to see far fewer quick flips ahead as GPs look to protect their after-tax carry.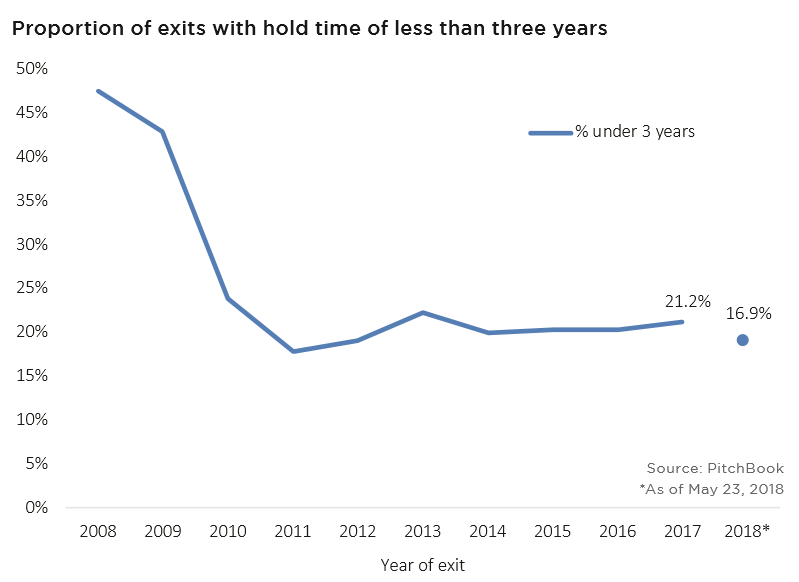 Add-ons, however, could get a little more interesting. It isn't uncommon to see add-ons made to a platform late in its holding period. In the past, GPs often used uncalled capital to finance those purchases, but under the auspices of the new tax law, financing add-ons through uncalled capital and exiting the platform within three years can create a split holding period for the whole investment. In other words, a single platform exit can generate both short-term and long-term carry depending on when all the pieces were put together—not an ideal situation. We think we'll see PE investors start to directly finance those late add-ons to prevent any carry from being taxed at the short-term (ordinary income) rates. We may also see GPs become even more deliberate with add-ons earlier in the platform's holding period. "Time is money" could be changed to "time is carry," in this case.

This column originally appeared in The Lead Left.

Read more about the impact of tax reform on the PE industry in our recent analyst note.