AUSTIN—At SXSW, the theme of how virtual and augmented realities will change every aspect of our lives has been on strong display. While the technology still seems years away, as suggested by the brick-shaped headsets and chunky graphics that currently define the space, optimism and a realistic roadmap to implementation were emphasized throughout conference sessions Wednesday.
To truly understand the specifics on how this will play out, I attended a standing-room only panel led by VR designers and engineers Kat Harris from
Magnopus
, Liv Erickson from
High Fidelity
, Eva Hoerth from
WXR Fund
and Estella Tse. The collective brain-power among these women was particularly noteworthy amid Women's History Month in the US and just after International Women's Day. Harris, for example, shared that she was the first woman to acquire a developer certification from
Unity
, an authority in the game design industry.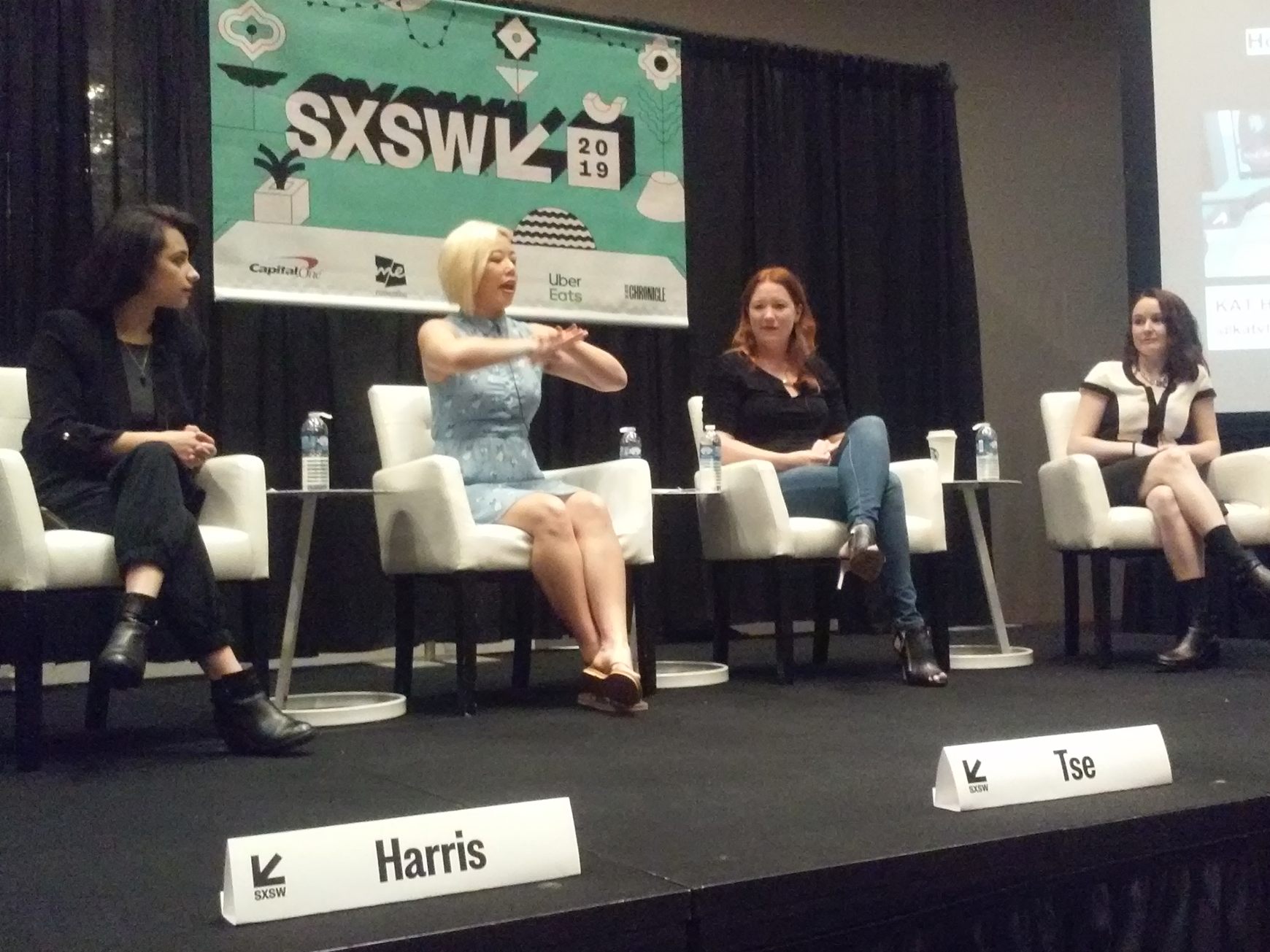 During the one-hour panel, the prospects of a realistic future advancement of virtual and augmented reality were discussed in great detail. The panel initially started optimistic, with discussions about what virtual reality meant to each person with respect to her professional background.
Tse, whose background is in illustration and traditional art forms, perhaps summed it up best.
"Art is first internalizing what you see and feel, and then it's thought-to-pen-to-canvas for an artist—VR is my canvas," she proudly explained.
Her creative mind also surfaced as she referenced her dress as part of the self-expression inherent in a digital avatar: "For me, it's all about the story you want to tell. I am wearing a dress today because that's how I want to express myself today. ... These are portions of that self story that I think AR and VR integrates."
Hoerth enthusiastically agreed: "If I want to do XYZ, I want to have a cool avatar that matches that. I love the idea of being able to express myself based on how I feel. We shouldn't have to change our feelings based on the world around us."
Erickson, a lead software engineer and co-founder of ARVR Academy, spoke more scientifically of the technology's benefits.
"You get this feeling of spatial awareness and embodiment, which is where VR excels," she said. "You can't have that with a 2D avatar, as we've seen in World of Warcraft, for example."
But it wasn't all charming. Taking pre-screened questions from social media, Hoerth raised concerns about the troubling issues the virtual world would carry into the physical realm. Specifically, as virtual reality advances and sophisticated digital identities are created, the way we identify one another and establish interpersonal trust may become deprecated.
For example, physical identification—such as passports, driver's licenses and simple visual recognition—primarily drives the way humans identify each other. Yet, as virtual reality develops more use cases beyond entertainment and penetrates deeper into society, it will become critical to know who is behind an avatar and which virtual identity actually corresponds to real-life flesh and bone.
While this verification issue isn't new in the internet age, it is bound by technological limitations that ultimately hold physical, real-world identity as the gold standard. A common example is when medical clinics require the verification of identification documents in-person before enabling a digital health record account online.
But virtual reality stands to offer alternative human experiences and timelines; that is already being realized in Japan, where a low birth-rate is partially attributed to people scrapping human relationships for technologic ones. Someday, however, that robotic lover might not be physical anymore but exist in a virtual world altogether that is fully satisfying—an elusive factor that's still evolving. This level of sophistication is when physical-world identity will become blurred and would require complex verification strategies to determine.
Erickson shared these concerns about the concept of identity in a raw, honest manner.
"We as an industry don't have that figured out yet," she said. "It will take a lot of collaborative effort to solve. We need to build trust mechanics in this space; maybe I can grant levels of fidelity to my avatar, such as having an anonymous character that everyone can see but I can have a different [representation] for people I know."
Beyond redefining identity and verification thereof, integration into society across all devices is another hindrance to the blossoming of the technology. Currently, the brick-shaped headsets I previously mentioned are our best gateway to a virtual world. But not everyone has this luxury, and this keeps virtual reality as a "destination" rather than an organic part of life.
Harris believes that "working together to create a foundation layer to communicate is key." A virtual world can exist independent of a single device, and related technologies, such as blockchain, may help realize the autonomy needed for VR to exist on its own. People would use devices to access the virtual world, as opposed to individually creating it temporarily on a per-session basis.
As the one-hour session ended, I wondered if this was truly the future or simply a fun gimmick to play with. A virtual experience would have to be superior to a physical experience for the technology to truly grow beyond a novelty or an inferior complement to the physical world. But if we can achieve this, I look forward to the possibilities that will destroy any inhibiting factors behind what we can do and experience in this life.
Check back for more SXSW coverage from Austin later this week!
Join the more than 1.5 million industry professionals who get our daily newsletter!