US private equity activity is on pace to decline by almost 10% during 2017. But the more important change in the market, perhaps, is in terms of what industries investors are choosing to back.
For the first time in a decade, one sector is set to account for
more than 40% of all private equity activity
in the US, according to the PitchBook Platform. And that's far from the only first. In one industry after another, private equity firms are in the midst of a gradual but clear shift.
The basic takeaways: The B2B, IT and healthcare sectors are eating up larger and larger shares of private equity dealflow, while companies in the B2C and energy spaces are receiving less PE interest than ever before.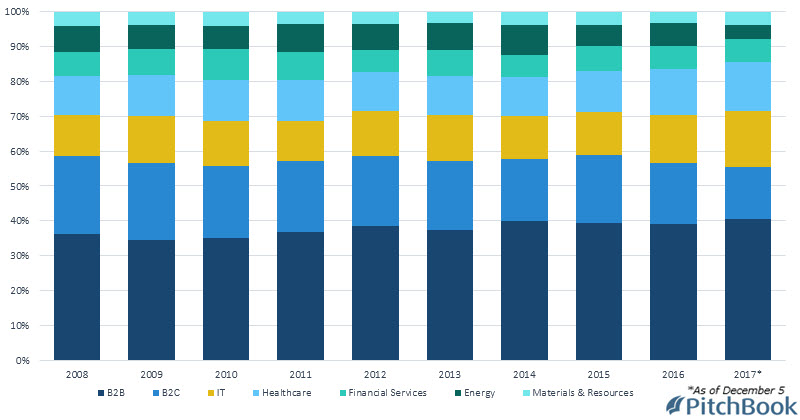 As of December 5, about 40.4% of all private equity investments in the US had occurred in the B2B industry, according to PitchBook data, the highest annual figure for any sector since 2014. In terms of percentage share of all PE deals, that equates to an increase of more than 11% since 2008.
IT, meanwhile, has overtaken B2C as the second most popular sector for PE investors in the US, accounting for more than 16% of all activity. That's a hefty spike from last year's rate of 14%, and it represents a 36% rise in IT's share of all US PE activity compared to 2008.
While the increase in healthcare interest isn't quite so pronounced, it's just as present. The space has accounted for 14.1% of all US private equity deals, the highest total of the decade. After ending up between 11% and 12% every year from 2008 to 2015, the industry's market share jumped to 13.3% last year and is ticking upward again in 2017.
The B2C sector represents the opposite side of the coin. After accounting for as much as 22.3% of all US PE activity in 2008, the space has seen its deal share gradually slide. This year, though, seems to be something of a precipice: B2C's slice of the US PE market has dropped from 17.5% last year to 15.1% in 2017.
While that figure may not seem massive in a vacuum, it's a significant decline when you consider the size of the dataset. A dip like that means hundreds of fewer deals, no small amount that can be explained away by random variance.
The story is even more dramatic in energy. For the past nine years, the sector's share of US PE activity hovered between 6.3% and 8.1%. So far in 2017, though, it's plummeted to a mere 4.2%, representing a massive YoY fall. Firms conducted 475 energy deals in the US during 2014; as of the end of November, this year's total was still shy of 200.
The only sectors where the status quo remains unchanged are financial services and materials & resources. Financial investments in 2017 are accounting for the exact same market share as in 2016—6.5%—while investments in materials remain in line with the past decade of data.
The true test of all these trends, of course, will occur in 2018 and the years beyond. Will B2B continue inching toward a 50% market share? Is healthcare the next sector to surpass B2C in popularity? Check back in a few years to find out.
PitchBook subscribers can view the full sector-by-sector dataset.