PE Fundraising
Infrastructure fundraising spiked in 2018—where will the capital go?
October 4, 2019
Almost three political centuries ago, expectations were high for a bipartisan and highly funded infrastructure bill. While a lot of developments have occurred since January 2017, the promised infrastructure package was not one of them.
Recall, though, the fervent efforts among PE investors to piggyback off of those plans.
Blackstone
made the most headlines with its push to raise $40 billion in a single infrastructure fund, announced in May 2017. All told, a little over $77 billion has been raised across the industry for US infrastructure since January of that year—around half of which closed last year. A large sum to be sure, but still puny compared to the $500 billion bill promised during the 2016 campaign.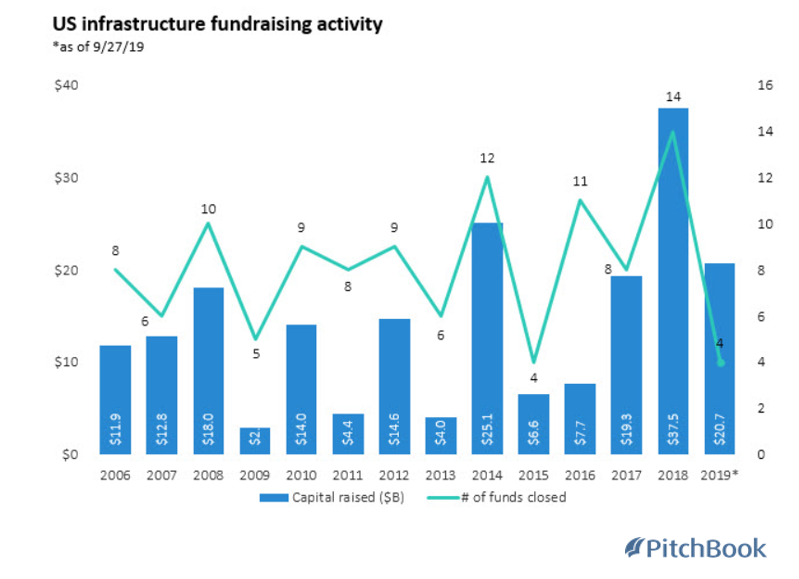 Investors have plenty of deals and projects to target:
The American Society of Civil Engineers gave the country a D+ in its 2017 report card
, estimating the cost of necessary improvements at almost $4.6 trillion. If and when an infrastructure bill passes Congress, investors will be at the ready, and we'd expect to see more funds enter the picture on top of the current crop.
There is a cautionary tale here, though, about the potential perils of chasing sure-thing political plans. PEGs played their cards right the last time this happened, with Obamacare. The market was expecting a big surge in healthcare investment, particularly around electronic health record systems. The new legislation (at the time) effectively mandated electronic record-keeping across wide swaths of the industry. Predictably, investors flooded into that market and consolidated like crazy, and many made a lot of money.
There was also more caution at the time because the healthcare bill itself was never a sure thing. It barely squeezed by, but contrary to the 2016 infrastructure promises, it was at least put to a vote. Presumably, the $77 billion worth of infrastructure funds floating around have plenty of solid backup plans.
Featured image via gyn9038/iStock/Getty Images Plus
Related read: Barbarians fixing the gates? Why infrastructure is primed for PE investment