Investor Spotlight: First Round Capital, an early Uber backer that lives up to its name
November 17, 2017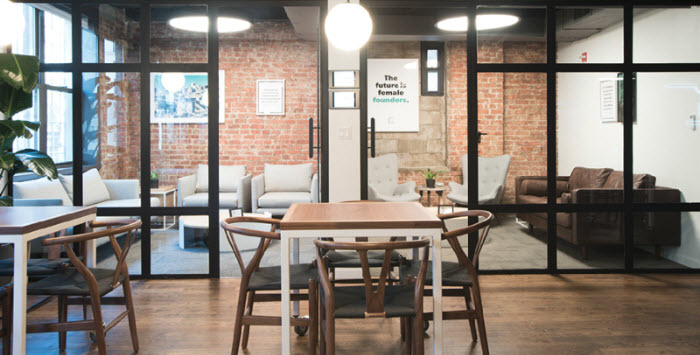 Our debut VC edition of the Investor Spotlight focuses on First Round Capital, which is known in the venture world as the first institutional investor in Uber. We've used data from the PitchBook Platform to highlight First Round's investment strategy, notable portfolio companies, key exits and more.
Despite recent struggles, Uber, with its $70 billion valuation, is worth more than any other private company in the US. As the first VC backer of the ridehailing giant, First Round provided Uber with its first office: The company worked out of a conference room at the firm until it outgrew the space.
Uber's first round of VC funding was a $1.5 million financing at a $5.5 million valuation, numbers that today seem incongruent with what the company has become: Its valuation has since increased by more than 10,000x, and Uber is currently in talks to raise $1 billion in new equity funding. With an IPO potentially looming in 2019, according to new CEO Dara Khosrowhahi, First Round stands to see an incredible return on its original investment in the not-too-distant future.
Uber isn't the only noteworthy company that's made its way into the portfolio of First Round, a firm whose name describes its investment philosophy: The VC backs startups at the earliest possible stages and helps build them into companies that will—hopefully—generate big returns.
Key Facts
Founded
: 2004
Founders
: Josh Kopelman & Howard Morgan
Office locations
: San Francisco (HQ), New York, Philadelphia
Investment focus
: Seed rounds
Aside from investments, known for
: Its annual holiday video, which parodies pop songs and features cameos from its founders. (If you have an extra seven-ish minutes, the
2016 video
is well worth a watch.)
Clockwise from left: Partners Josh Kopelman, Phin Barnes, Hayley Barna, Chris Fralic, Bill Trenchard,
Brett Berson, Rob Hayes

Josh Kopelman
founded First Round in 2004 with Howard Morgan, who retired from the firm earlier this year (he's now a chairman at B Capital Group, the VC firm founded by Facebook co-founder Eduardo Saverin), with a focus on helping founders start their companies. Before that, Kopelman was a veteran entrepreneur with a trio of exits under his belt. In 1992, he co-founded Infonautics, an information services company that went public four years later, and in 1999 he founded Half.com, a seller of used books, movies and music that went on the be purchased by eBay. After that, Kopelman helped create Turntide, an anti-spam startup that was quickly acquired by Symantec.
Hayley Barna
is the newest venture investor and first female partner at the firm, where she's focused on seed rounds for founders based in New York. Before joining First Round in October, Barna was a co-founder and co-CEO of Birchbox, a beauty subscription startup, building the company up to a $485 million valuation by 2014. Under her leadership, Birchbox raised about $80 million in VC financing—including backing from First Round.
Phin Barnes
worked for sneaker company AND 1 for several years early in his career, helping scale the business and serving as the creative director for footwear. He went on to found a fitness & video game company called Yourself!Fitness, which developed a fitness game for Xbox and PlayStation 2. As a partner at First Round, Barnes focuses in part on the Dorm Room Fund, which provides early-stage funding to students.
Brett Berson
leads First Round's platform team, which works to foster communication and collaboration between the firm and the startups in its portfolio. Berson, who started at First Round as an intern a decade ago while he was in college at New York University, has spent his entire career at the firm, also working as an associate and a VP before being named Partner in 2016. He also produces the firm's famous holiday videos.
Chris Fralic
invests across several industries, including adtech, ecommerce and connected devices. Before joining First Round as a partner in 2006, Fralic worked in sales and business development at several different tech companies, including eBay and Half.com, where he was a colleague of Kopelman. Fralic is also involved in the TED Conference and helped launch TED Talks, the video series that features expert speakers on science, tech, business and other topics.
Rob Hayes
is the First Round partner responsible for the firm's investment in Uber. He backs several types of startups, with a particular interest in consumer technology. Before joining First Round in 2006, Hayes was a venture investor at Omidyar Network; prior to that, he worked for Palm, the company that made the PalmPilot, and created its corporate venture fund.
Bill Trenchard
became a partner at First Round in 2012. Before that, he co-founded software company LiveOps and founded Jump Networks, a calendar company that went on to be acquired by Microsoft. He's also been a partner at seed-stage firm Founder Collective, where he invested in Uber and many other companies. Trenchard has also backed a number of startups as an angel investor.
Investment Strategy
"Most of our 300+ companies came to us when they were a couple people and an idea, having raised no capital before they met us." –First Round website
First Round Capital lives up to its name. The firm is the
sixth most active seed investor in the US
, per the PitchBook Platform, with 180 seed-stage investments over the last decade-plus.
The firm typically invests in a company's first formal round, although it does sometimes back startups that have already raised money from family and friends. Its initial investments tend to range from $500,000 to $750,000.
First Round also reserves 75% of its capital for follow-on fundings. That philosophy is clear from taking a look at the firm's investments by deal type, which reflects more early-stage than seed deals. Here's a full breakdown of First Round's VC investments by type dating back to 2004: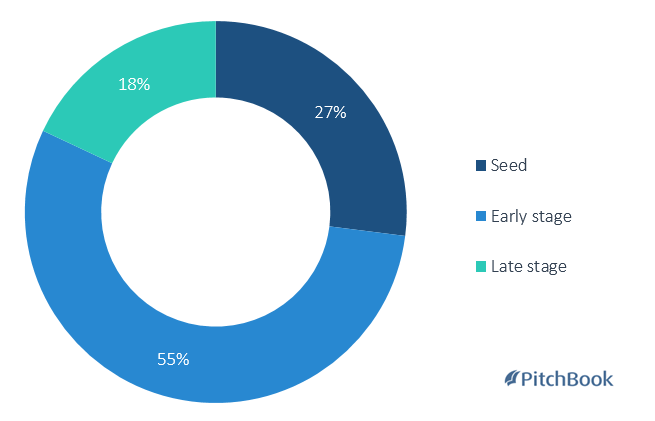 First Round's average funding size is about $1.5 million, but it has invested in rounds that total everywhere from $500,000 to $5 million.
First Round tends to be the lead investor in seed rounds, although it claims to participate in fundings without snagging the lead role about a third of the time.
The firm strives to own about 7.5% to 12.5% of a company after it participates in a seed round. The stake usually increases when it takes part in follow-on fundings. First Round has built up a program called Pitch Assist through which it helps portfolio companies raise follow-on funding. Through the initiative, the firm has helped its startups raise more than $500 million in follow-on capital, per its website.
The firm commonly gives up board seats at companies to new investors that come in at later stages—Hayes, for instance, eventually vacated a seat on the Uber board that he filled when First Round initially invested in the company.
Industry & Geography
First Round Capital says it focuses more on deal stage than it does on industry. But according to data from the PitchBook Platform, the firm does have a
clear preference for the IT space
, as you can see from this chart, which includes data on deal activity from all its investments dating back to 2004: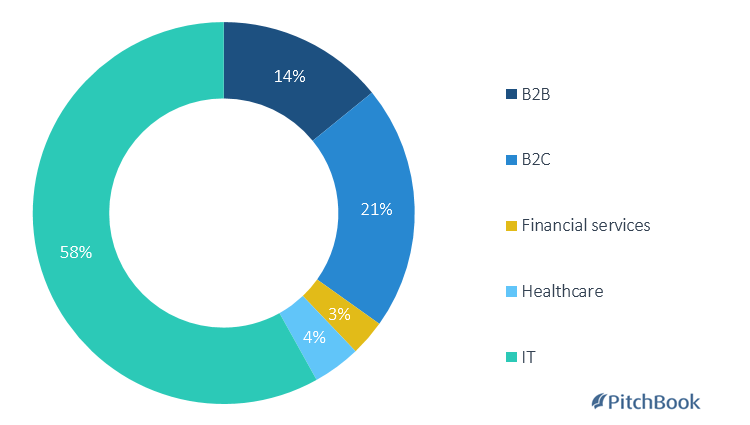 A look at the activity of one of First Round's funds provides a more detailed analysis of the firm's investment preferences. By way of example, First Round Capital III, which closed on $130 million in 2010, has made a plurality of its investments (about 15%) in the media & information services sector, followed in frequency by application software (11%), social & platform software (11%) and internet retail (9%).
As for geography, First Round is a US-centric investor. The firm does have a few portfolio companies in Canada, but it invests almost exclusively in startups based in the US.
Dating back to the start of 2004, First Round has completed 392 investments in California, the home of the firm's headquarters, accounting for more than 58% of its US deals.
The firm's other office locations are also in the top five in terms of states with the most investment activity: New York comes in second with 171 deals, and Pennsylvania takes the fourth spot with 23.
Below is a representation of the firm's total deal activity in the US since its formation: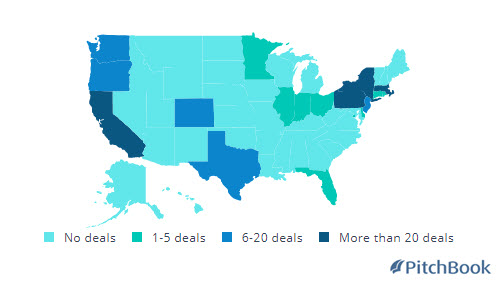 Notable Portfolio Companies
Many of First Round's most valuable portfolio companies are consumer-facing. Here's a look at some of the firm's most well-known current investments: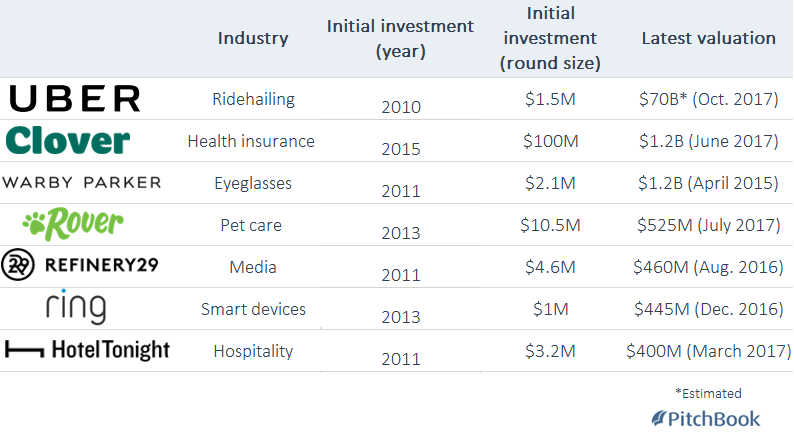 Notable Exits
First Round has been an investor in a number of companies that went on to be acquired or debut on the public markets. Here's a sampling of the firm's major exits: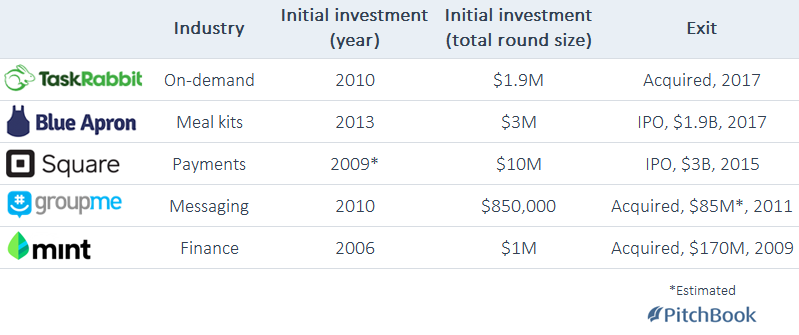 Funds
First Round has closed on eight flagship investment vehicles since the firm's founding, with the size of those vehicles rising steadily over the years: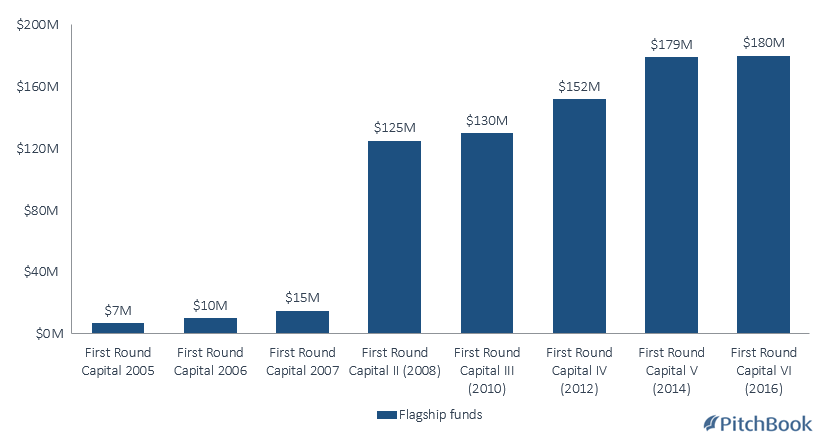 The firm has also raised two annex funds—its 2006 annex fund closed on $5 million; the 2007 vehicle closed on $15 million.
The firm is currently investing out its two most recent vehicles, which each have around $140 million to $145 million in dry powder, per the PitchBook Platform.
If you haven't already, go to First Round Capital's YouTube channel to view its archive of holiday videos.

And check out the other Investor Spotlights from PitchBook.