Are IRRs inflated?
It's a slightly different inquiry than asking whether IRRs are trustworthy in general. That debate has been around for years and will continue to be. The inflation question is being asked a bit louder nowadays, thanks to a renewed focus on subscription credit lines. Investors use them to streamline capital calls between their funds and their LPs, and to speed along near-term funding obligations.
The terms on those subscription credit lines have begun to loosen, and some GPs are reportedly taking advantage of that flexibility to artificially inflate IRRs—by 3% a year, according to one estimate. In our
latest Benchmarks Report
, we took a closer look at possible IRR inflation by comparing internal rates of return to cash multiples, which are less manipulatable because the timing of cashflows is taken out of the equation.
PE IRR and TVPI at three-year mark by vintage bucket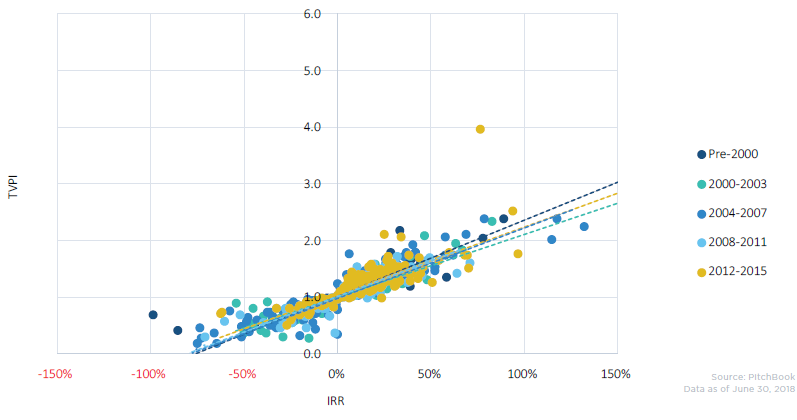 The short answer: We found no evidence that subscription lines are being used to manipulate IRRs when we looked at newer vintages. At first glance, the comparison between IRRs and TVPIs strongly suggested they were inflated, as there appeared to be a clear disconnect between the two values for the vintage buckets we selected.
But younger funds tend to report higher IRRs for a given TVPI level anyway; a shared TVPI of 1.5x between two funds will translate into different IRRs depending on the vintage—the younger of the two will have distributed capital back to LPs quicker, justifying its higher IRR and muddying the water on the inflation question.
To control for that, we isolated fund performance at the three-year mark for all vintages in the 2012-2015 bucket. Those numbers, included in the featured graph, came in much tighter, suggesting that the apparent inflation in IRR values essentially disappears when you observe funds at similar stages in their lives. The correlation proved consistent across vintage buckets when we examined the five-, seven-, 10- and 12-year marks, as well.
IRRs are an imperfect measuring stick—a wiser way to consider them is in conjunction with cash multiples, deemphasizing their importance until the fund is fully invested.
This column originally appeared in The Lead Left.
Read more about IRRs in our latest Benchmarks Report.