After eight years trading on the NYSE,
KKR
has announced it will convert from a partnership to a corporation on July 1.
The private equity titan made the long-rumored move official Thursday as part of its 1Q earnings report, overshadowing news that its economic net income dropped 35% YoY, to 42 cents per share—a decline
echoed by its publicly traded peers
after a volatile three months for the markets. Still, KKR far exceeded Thomson Reuters estimates that it would report ENI of 11 cents per share.
Following
Ares Management
, KKR will become the second publicly traded PE firm to flip from partnership to corporation since the Tax Cuts and Jobs Act of 2017 dropped the corporate tax rate from 35% to 21% earlier this year. Ares and KKR will now pay that 21% rate on all performance-related revenue, rather than passing the carried interest onto shareholders to be taxed as capital gains, as partnerships do.
As such, the move would seem to favor firms that draw more of their income from management fees than performance fees—and indeed, KKR does rely less on performance fees than publicly traded counterparts such as
Blackstone
and
The Carlyle Group
: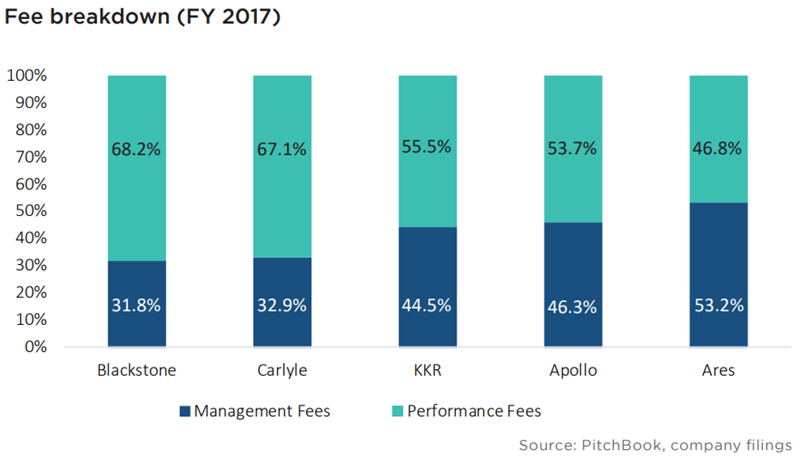 Wall Street apparently liked KKR's decision: The firm's stock jumped almost 3% on Thursday.
In a joint statement, KKR co-founders and executives Henry Kravis and George Roberts said they expect the move to broaden the firm's investor base, make it easier to invest in its stock and increase KKR's ability to create long-term shareholder value. The firm projects it will pay an annualized dividend of 50 cents per common share as a corporation, and it will increase its share repurchase authorization to $500 million. In other 1Q financials, KKR reported after-tax distributable earnings for 1Q of $304 million, or 37 cents per unit, while AUM increased 28% YoY to $176 billion.
For Ares, meanwhile, the first quarter as a corporation came with less-than-promising results. The firm reported 1Q ENI of 28 cents per share during its earnings call Thursday, below reports Zacks Investment Research estimates of 37 cents per share.
Check out our PitchBook analyst note about PE firms making the switch to C-Corps.