KKR plots €5B Europe fund
October 13, 2017
KKR plans to raise up to €5 billion for a new
flagship Europe fund in 2018, according to a Financial Times report. It would mark the New York-based firm's first fundraising foray across the pond since closing its KKR European Fund IV on some €3.3 billion in late 2015. Almost two years later, that vehicle
ranks fourth out of 12 funds in its peer benchmark
, according to the PitchBook Platform.
Keeping in mind that a little more than half of KKR's latest Europe fund is still waiting to be deployed and most of the investments it's made are still active, here's a closer look at how the vehicle has fared so far:

The firm's latest Europe fund is reportedly expected to continue its predecessor's strategy of investing between €200 million and €1 billion in European portfolio companies. With offices in Paris, Madrid, London, Luxembourg and Dublin, the PE behemoth has never been shy about operating in Europe. In fact, since the start of 2008, about
34.5% of KKR's PE deals have occurred in Europe
, according to PitchBook data, compared to 45.1% completed in the US. Asia, meanwhile, has been home to 11.8% of the firm's deals in the past decade.
While KKR has had
a banner year in 2017 for dealmaking
, that trend hasn't carried over to Europe. After completing 44 deals in the region last year, a new high, the firm's rate of
European deals is on pace to drop
this year: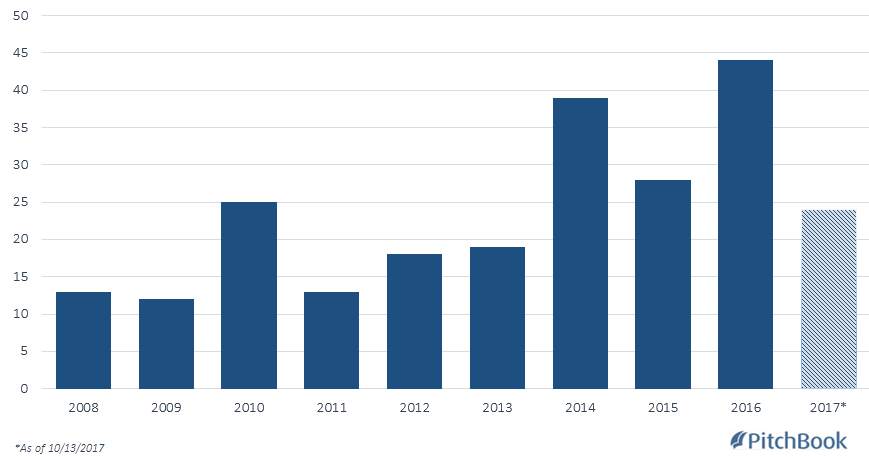 KKR's new Europe fund is the latest sign of the global nature of the firm's fundraising. In March, it closed its KKR Americas XII Fund on $13.9 billion, and in June, the firm closed its Asia Fund III on $9.3 billion.
PitchBook subscribers can view the full slate of KKR's European transactions.