PlayBook 3Q 2018
Looking past clichés and rethinking real estate investment strategies
September 25, 2018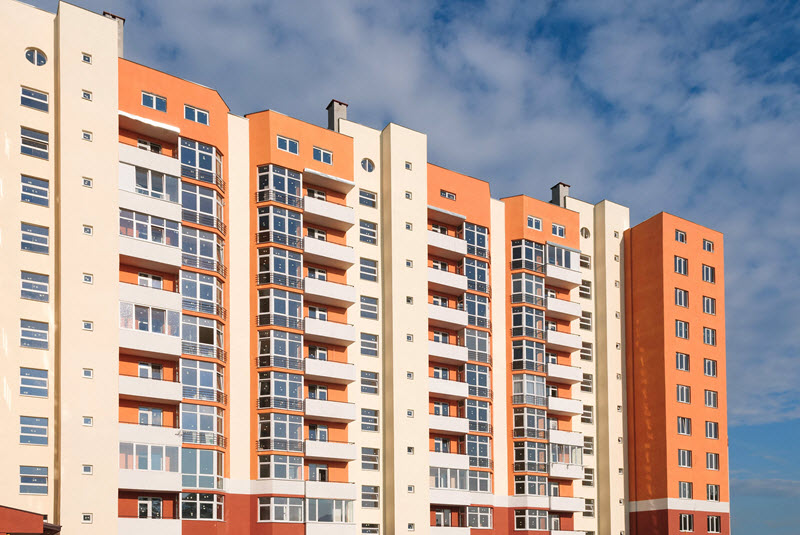 How has your city changed in the past decade?
Looking around Seattle (where PitchBook is headquartered), many neighborhoods are nigh-unrecognizable compared to a decade ago. Construction cranes abound as apartments and townhomes and office complexes arise.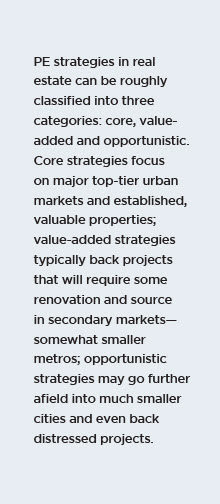 These narratives are likely familiar— headlines proclaiming the rise of mega-cities and increasingly dense city centers have proliferated for years. However, narratives persist long after reality changes. In actuality, changes have been afoot in many key areas, two in particular—urbanization and density. More importantly, how they are changing is also set to impact a critical source of funding for development: private investors.
For several years now, private real estate strategies in North America have often tried to capitalize on oft-discussed trends of millennials eschewing suburbia for city life. But demography is not destiny.
There's a case to be made that funds deploying capital or looking to target hyped investment themes should be wary of overexposure or overinvestment in said trends, as both macroeconomic and industry-specific cycles in North America look poised to shift or even reverse in coming years. Suburbia may not be dying after all; urbanization may well slow down or at least even out. But first, some background.
The real deal
Post the financial crisis, real estate markets were depressed and interest rates fell to unprecedented lows. Many global institutional investors allocated more capital to core real estate strategies dedicated to exploring opportunities in booming real estate markets, primarily in mega-metros such as New York, to broaden their overall portfolio exposures and combat the low-yield environment.
In fact, the US has been a favored region of international investors for some time, given its institutional-quality commercial real estate has notched attractive, risk-adjusted returns over the past 20 years, according to JLL Research in July 2016. Allocation to private real estate funds has hardly slackened either—though it's worth noting that aggregate, annual tallies of capital raised are still dwarfed by pre-crisis figures, and 2017 saw a notable decline from the two years immediately prior.
Value-added real estate pools, however, have stayed remarkably stable in terms of capital raised since 2014, ranging from $29 billion to $32 billion each year since on a global basis, per the PitchBook Platform.
Urbanization had been proceeding at a much more sedate pace in metropolises throughout the 20th century, regardless of these recent capital allocations, but with augmented monetary fuel, increased densification became more pronounced—even in city centers.
Billions of dollars have been strewn across quite a few locations in the intervening years; however, the way they've been deployed has changed decidedly as investors respond to the twin trends of densification and urbanization. Whether the scars of the recession were material or emotional, millennials pursuing apartments over single-family homes, growing populations, and faster-recovering urban centers all propelled greater density.
Lagging by a customary few years, private investment strategists followed suit, helping fund luxury multifamily housing, high-end townhomes and condos, given costs of land and development. An increasing sprouting of mixed-use buildings that aspired to capitalize on preferences for walkability, proximity, shorter commutes and convenience also contributed to increased density.
More and more, modern city centers and neighborhoods began to look eerily alike, characterized by sleek glass facades and beams of steel, trendy eateries sitting below chic apartments, crowned by rooftop open areas with grills and tables. But such amenities are costly to build, and they consequently lead to steep rental rates and exorbitant valuations.
The shift to secondary strategies
As capital flooded in, the primary real estate market heated up steadily over the past decade. Housing and commercial lease prices began to creep up, with skyrocketing rents in metropolitan areas such as New York, Vancouver, BC, and most notoriously San Francisco. (Only just recently have they begun to even out or decline.)
In pursuit of more reasonably priced markets, funds began to hunt further afield in what are deemed secondary markets, such as Seattle, Houston, Orlando and Atlanta. Moreover, they also delved into alternate niches.
To take two examples, Blackstone recently purchased 14 manufactured housing communities, and Canada Pension Plan Investment Board and Singaporean sovereign wealth fund GIC entered into a joint venture with multifamily real estate firm Cortland Partners to renovate 8,000 to 10,000 Class B units (midscale in terms of amenities and size) in the US.
In fact, that last example not only illustrates the extent to which investors have embraced multifamily opportunities, but it also hints at the next stage for private real estate strategies, which is beginning to manifest in key areas.
Diversification and innovation
Much of the multifamily cycle in core North American metro areas consisted of building luxury units, at least prior to 2015 or 2016. This phenomenon is relatively cyclical in nature, as rising prices and consumer preferences in the wake of the financial crisis encouraged such a focus—particularly as high earners proliferated across certain metros.
Businesses and builders alike are striving to achieve a harmonious blend between the digital and the physical.
But every cycle turns, and as Class A properties (i.e. higher-end) grew pricier, Class B has become more popular, even in secondary markets. Thus, a new prong of evolution in strategies has emerged beyond the push to secondary markets: a growing focus on diversity in the class and types of properties, plus rethought approaches to existing properties, such as renovations of assets to core status.
More reasonable prices and overall population growth, in addition to hints of consumers' increased willingness to live outside of the hyped hotspots of the past decade, all contribute to a conducive backdrop.
On top of that diversification, the latest types of buildings designed to cater to current preferences and innovations in retail centers should also be noted. As carnage in the retail real estate market continues, exemplified best by the slow death of the traditional mall, builders are reconfiguring shopping centers around truly-essential-yet-still-relatively-high-scale goods, such as Whole Foods.
Moreover, businesses and builders alike are striving to achieve a harmonious blend between the digital and the physical—think eyeglass retailer Warby Parker's brick-and-mortar locations in city neighborhoods, or online mattress retailer Casper's recent decision to open 200 stores across the US.
Private real estate funds looking to deploy capital are considering the impact of such developing trends and strategizing about the need for or best method of exposure, still looking primarily at retail and residential as opposed to commercial real estate, which remains a tough sell. Such considerations tend to be fledgling, as the strategy is not necessarily proven out, and such storefronts typically cluster in pricey core markets or increasingly pricey secondary markets.
The case for concern
But are these strategies of pursuing multifamily units in secondary markets, Class B properties, and niches still sustainable for the next decade or more? Not necessarily.
To reiterate, demographics aren't quite destiny. The clichéd millennial propensity for apartments in major cities was certainly driven in part by such centers' quicker economic recovery, while the plunge in home purchases was driven by declining incomes.
Consumer preferences have shifted somewhat to favor living in more urban areas, but there are increasing indications that younger demographics aren't averse to buying single-family units. The clearest evidence was the red-hot pricing for housing in secondary markets such as Houston, Denver, Minneapolis and Seattle, to name just a few.
Although interest rates are rising at a relatively slow rate, they are still rising, and moreover, new construction costs are soaring due to the ballooning price of timber, steel and aluminum.
Furthermore, as recently noted in Axios, 65% of American cities with at least 250,000 people either lost population last year or experienced lower rates of growth, indicating a reversion to suburban growth as opposed to urban. The building-out in suburbs of secondary markets and the continued evolution of workplace practices to allow flexible, remote schedules also persist as factors. In short, while urbanization looks set to continue relentlessly, density may well decline slightly or even out at the least.
Consumer preferences not having shifted as much as headlines would have you think isn't the only macro trend to warrant concern. Although interest rates are rising at a relatively slow rate, they are still rising, and moreover, new construction costs are soaring due to the ballooning price of timber, steel and aluminum.
Economic growth in the US remains at least robust, and global at least steady, but demand for housing—if not apartments—has slackened recently. All in all, real estate investors should be wary but also cognizant that returns may well dip lower in the future even despite the macroeconomic environment, given the changes in underlying factors such as input costs, shifting consumer preferences and refilled inventories.
From a broader strategic perspective, real estate PE fund managers should bear in mind that even a decade is insufficient to gauge the certainty of a shift in consumer preferences. Although the seismic shift in retail is probably permanent and adapting to the new face of retail—select locations backed by robust digital platforms—will be critical, residential markets aren't solely about multifamily. Single-family units plus the ramping up of secondary markets will also be trends worthy of attention.
Ultimately and inevitably, however, urbanization will persist across many locations, and that will call for a more diversified portfolio in terms of class and geography.